UTEP's R1 Designation Gives Birth to New Hope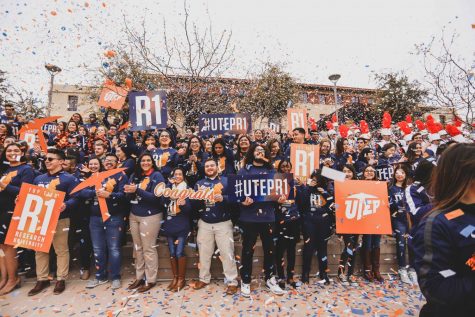 Cesar Gonzalez, a freshman student at The University of Texas at El Paso majoring in biological science with a biomedical focus and minoring in medical engineering, witnessed a woman giving birth in a hospital for the very first time when he was 17.
"It was shocking, but seeing that and being able to save lives and other things throughout that whole time made me realize that I wanted to be a doctor," Gonzalez says.
Gonzalez was part of Silva Health Magnet High School's Science, Technology, Engineering and Math (STEM), program and during his time participating in it, he was able to experience professionals in the medical field performing operations, helping births and even saving lives.
"My parents were excited for me because they saw how happy I was doing it. I was on my own and my mentality reached a point where it was ready to do more," Gonzalez says.
Ever since Gonzalez was 15 years old, he's lived on his own and away from his parents who reside in México City. But, he says, adapting to the change was not hard for him as he began his journey in the medical field in high school, which was around the time he arrived in El Paso and his eyes were opened to the field of medicine.
These days, Gonzalez participates in Thomas Boland's research at UTEP, who is a UTEP professor in Chemical Engineering, that is geared toward using 3D-printing technology to engineer tissue and to recreate aortas, the largest artery in a body, for those who suffer from health deficiencies.
"I enjoy the work because It's very different from working in a hospital. You're potentially helping a lot of people in the long run instead of the amount that you see in the hospital daily," Gonzalez says.
Although a freshman, Gonzalez considers himself a sophomore because of the amount of credits he has acquired through his classes. Not only is this fact something for which he feels a sense of accomplishment, but he is also proud of the fact that he has been participating in this research under Beu Oropeza, a UTEP grad-student working on her doctoral degree in biomedical engineering while participating in research with Boland since his first week of his first semester at UTEP.
"(Oropeza) had all the materials ready and now she's just working on actually getting things done," Gonzalez says. "But, it's difficult because (in the past) funding has been very specific and so we had to focus on one thing at time."
Funding issues are common, but that may change. On Jan. 9 UTEP obtained the 'Research I university' (R1) distinction and now exists alongside schools such as UT Austin, Yale University, and Cornell University under this designation.
This category, created by the Carnegie Foundation for the Advancement of Teaching, describes universities that offer a full range of baccalaureate programs, award 50 or more doctoral degrees each year, give high priority to research and receive $40 million or more in federal support.
Of the list of more than 130 institutions, UTEP has taken its place among both public and private institutions that have a very high level of research activity, according to Carnegie Classification.
"This newly earned Carnegie R1 classification in the Top Tier of national research universities strongly validates UTEP's success in delivering on our innovative access and excellence mission," stated President Diana Natalicio in an article by UTEP's student newspaper, The Prospector.
"It also powerfully affirms the stature of UTEP faculty researchers, the quality of their innovative work, and their competitiveness in securing funding to support it," Natalicio continued. "Engaging our students, both graduate and especially undergraduate, in this growing research activity at UTEP provides them with outstanding learning opportunities and raises their aspirations to pursue advanced degrees and research careers."
Roberto Osegueda, vice president for research and professor of Civil Engineering at UTEP, oversees all the research projects pursued by faculty on campus and has seen firsthand the kind of opportunities that students are open to after participating in research at UTEP.
"It is a designation aspired to by many universities and we just happened to get it," Osegueda says. "We happened to be among a few select schools, 130 schools who have the R1 designation among many thousands of schools."
At UTEP's Expertise Connector (expertise.utep.edu), Osegueda showcased the countless UTEP research projects past and present, the students that have participated and the different types of degrees that students earned after completing their research.
"Anytime you have a student that's engaged in research, they're going to get something like a masters or a doctorate," Osegueda says.
Since Osegueda first started as the vice president for research, the amount of funding that has supported UTEP's research has increased almost every year for the past 10 years, according to a 2018 Research and Development survey done by the National Science Foundation (NSF).
"By obtaining the new title, we're able to accomplish a lot more and do a lot more with our research that hopefully the new designation will help bring in. I can imagine only amazing things for UTEP's research as a whole," Gonzalez says.
Osegueda believes the new designation will open new opportunities. He says that the more funding that UTEP gets for research, the more likely students will participate and be able to have something to add to their resumes.
"Hopefully in five years, I'm already in medical school like the Massachusetts Institute of Technology (M.I.T) or Harvard Medical School," Gonzalez says.
After completing research, Gonzalez believes he will be open to the opportunity of pursuing a higher degree.
"With all the funding that is going to go towards research, it will give me a better chance (to pursue a higher degree). There's no guarantee that I will get accepted but, there is a better chance compared to if I didn't have anything done right now," Gonzalez says.
Similarly, Osegueda believes research opportunities at UTEP will help further the competitiveness of students by better preparing them to get into those higher degrees in addition to fulfilling their curiosities to know more about their disciplines.
"Everybody who engages in a research grant, eventually their curiosity wakes up. It's a lot easier for anyone to pursue higher degrees," Osegueda said.
By Brandy Ruiz
Leave a Comment