Our very own Gossip Girl: Q&A with UTEP Confessions
May 2, 2023
In 2022, a new Instagram account appeared on the screens of UTEP students, @utepconfess. Based on confessions made by the students themselves, the account posts daily content, ranging from complaints about what is going on around campus, to wild love confessions. The account currently has 3,067 followers and posts around 70 confessions every day on the account's stories.  
Minero: When did you create the account? What inspired you to make UTEP Confessions? 
UTEP Confessions: I made the account at the beginning of the year, right after a year of @utepaffirmations. One of my friends showed me an account from the school they go to that was kinda like this one, but they do it through DMs, so it isn't anonymous. I knew about tellonym and was like 'omg what if UTEP had this,' and I made the account and tellonym has been a hit.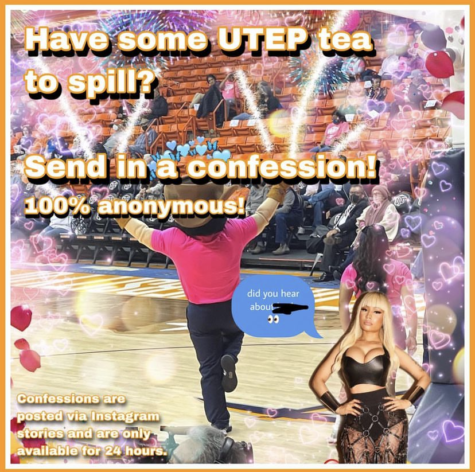 Minero: What have been the funniest confessions you've received? 
UTEP Confessions: The funniest confessions are probably the ones of people talking about their sex stories. Y'all are gross for real. 
Minero: Are there any confessions you don't post? Why?  
UTEP Confessions: I get a lot of wild confessions. There's a lot I don't post, mostly about frats/sororities and a lot about transphobic stuff like that. 
Minero: What's something you have learned from the UTEP community? 
UTEP Confessions: I've learned a lot about UTEP from running these accounts. Definitely a lot about the Greek life here.  
Minero: Have you gotten in trouble with any department at UTEP? How do you handle that? 
UTEP Confessions: I have never gotten in trouble, although one of my friends who is a Peer Leader told me that anybody caught interacting with the account would get in trouble according to their boss because it's inappropriate or something like that. Other than that, not really. I feel like if I posted everything that got sent I would have been shut down a long time ago.  
Minero: How do you feel when people start attacking the posts you make? Do you get a lot of hate messages? 
UTEP Confessions: I don't really care if people attack me, because at the end of the day, I don't send this stuff in. I just smile and wave.  
Minero: What's the best thing about being UTEPconfess? 
UTEP Confessions: Honestly, I like running UTEPconfess a lot, but it is a silly hobby for me. I don't really do much apart from post what everybody else is talking about, like a middleman. 
Minero: How do you manage the account while balancing being a student, working and your private life? 
UTEP Confessions: Honestly, managing the account isn't that much of a time consumer, it's like any old hobby. I am maintaining my stuff pretty well (apart from abandoning utepaffirmations). 
Minero: What's going to happen after you graduate? Are you deleting the account, or do you plan on keeping it? 
UTEP Confessions: I'm planning on doing my masters at UTEP as well, so I have plenty of time to run it. I doubt it will be relevant for that long though. 
Minero: Where is UTEP affirmations? They are MIA.
UTEP Confessions: I will start posting again, I promise. The motivation just isn't there right now.  
So, there you have it Miners, an insight scoop from UTEP's most controversial account. 
XOXO… Minero Magazine