Gavin Hardison
Getting to know UTEP football's quarterback 
August 29, 2022
The sun glistened and beat down on the stadium at the University of Texas at El Paso, which was aptly named the "Sun Bowl." The field turf, a perfect bright green, a stark contrast of the dark blue lettering, the orange and white outline of the UTEP logo in the middle, and the bright orange "MINERS" at each end zone in giant, bold letters.  
The home crowd wailed and cheered in anticipation as the Miners lined up in a single back formation – one running back on the field, and typically lined up behind the quarterback. UTEP's starting quarterback, sophomore Gavin Hardison, is lined up behind his offensive lineman, junior Robert Mervin. They are down 13-10 to the University of New Mexico's (UNM)  Lobos with about 9 minutes and 30 seconds left in the third quarter, and even with a lot of time left, Hardison and the entire team can feel just how monumental a win would be for the school, as the city and the school have not experienced a winning record since the 2014 season, since the Jones brothers were last here.  
Then, the ball is snapped. 
Sophomore wide receiver Jacob Cowing explodes past the UNM cornerback, and after taking a second to look down the field at his receivers, Hardison launched the football for 55 yards towards Cowing for a touchdown to take a 17-13 lead early in the third quarter and send the crowd and UTEP's sideline into a frenzy of celebratory cheers. 
Holding on to the lead and not allowing UNM to score at all in the second half, UTEP scored one more field– goal in the last 3 minutes of the game to make the final score 20-13, after a failed comeback attempt by the UNM offense.  
This game was a turning –point in UTEP's football program and a milestone for the fall 2021 season, as they managed to improve to 3-1 for the first time since 2004-05.  
The young quarterback proved to the team, his coach, and the city that he can handle the pressure.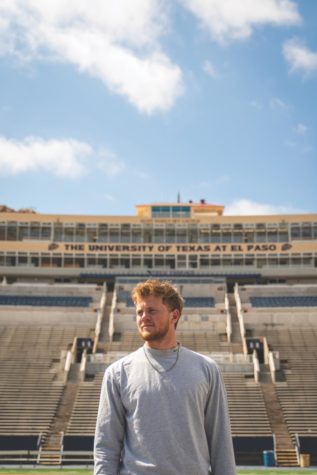 He finished the game with a stat-line total of 293 yards and a touchdown (the touchdown which won the game. Officially, the team proved that UTEP really was something special, hidden away in the mountains surrounding the Sun Bowl stadium.  
The bright lights and 120-yard field were always destined for UTEP's starting quarterback. 
The Beginning 
Born in May 15, 2000, to Chad and June Hardison, Gavin Hardison started his football journey, his goal to play for a Division I university in the small city of Hobbs, New Mexico. 
His father, a retired firefighter who worked for the Hobbs Fire Department for 21 years, devoted two years to the University of the Southwest, a small university in Hobbs, as a strength coach for all teams on campus. Despite being torn between his duties as a firefighter and a strength coach for college athletes, his father said he tried to put extra effort into helping his son follow his dream of being a football player.  
"When he was 2 years old, he had this play helmet, (that) was (the) Dallas Cowboys and he put that on, and he wore it everywhere, like we got to where we didn't even realize he had it on," said Gavin's mother, June. "Then he got a black helmet, that had the Hobbs Eagle, so from about the age of 2 to about 5 or 6, he had that thing on almost all the time…I mean that was what he wanted to do."  
Even if it followed a long 24-hour shift at the fire station, his father would be available to play catch with his son, setting the tone for the love of the sport to continue to grow within young Hardison.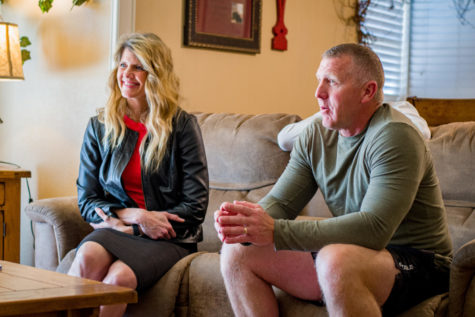 Hardison only has one sibling, his younger brother Jason, with whom he has had a close relationship with and has had a profound impact on his development growing up. Although Jason is not into sports like his older brother, he is more interested in the tech industry, and works for his school as IT maintenance at Hobbs High School. 
"I just want to be an example and a role model for him, and he honestly is an example and a role model for me in the way he handles himself in his life, too," Hardison said.  
Hobbs is smaller than El Paso, with a tightly knit community where everyone knows everyone, and they treat each other like family. According to Gavin Hardison, they have all known each other for most of their lives. 
Gavin Hardison attended Hobbs High School, the only high school in the area. He was a quiet, unassuming, but devoted and a hardworking first-year student, according to his high school football coach, Charles Gleghorn. He competed every single day and went out of his way to ensure that varsity coaches knew his name, even if he could not start for them until his junior year. His competitive spirit, work –ethic and his calm yet determined attitude led coaches to put faith in him, that he could lead the team to success. 
He took over the team on offense in the first season of his junior year. But, due to injury, it was not until his senior year that Gavin Hardison was able to display his athleticism. 
He shattered five high school and state records: most passing yards in a career (8,678, 2015-17), most touchdown passes within a season (58, 2017), total offense, which includes passing and rushing yards (5,498, 2017), passing yards in a game (529, vs. Onate. 2017), and finally, passing yards in a season (5,347, 2017).  
"I mean, there's a lot of things as a coach, you can draw up on the whiteboard and say 'man, if we only [could] do this', well that year, we could do that," Gleghorn said. "He was able to make all the throws possible, receivers could run the routes and they knew that he'd get the ball to [them] on time." 
As a team, he helped push them to a 9-3 record and take them to playoffs, and helped shatter multiple team records that had stood for years, including points in a single game (77 vs. Onate, 2017), touchdowns in a single game (11 vs. Onate, 2017), points in a season (575, 2017), average points per game (48.5, 2017), passing yards in a game (629 vs. Onate, 2017), passing yards in a season (5,347, 2017), total offense in a season (6,500, 2017), total offense in a single game (814 vs. Onate, 2017), and average yards per game (541.7, 2017).  
"Some other people told me… they'd be out [at the] game and if we had the ball before halftime, with like 35 seconds left, we got the ball back and had 70 yards to go, and people would start to get up and go get their popcorn and stuff, and people would say, 'no, no, no, you don't want to leave yet'", Gleghorn said.  "I mean, he could take a team down and score very quickly at any time, so you'd never want to leave when the offense was on the field and Gavin was the quarterback; it [was] fun to watch."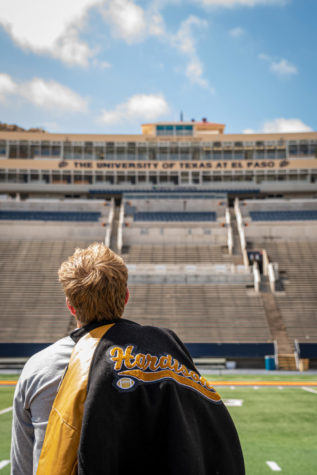 Hardison graduated from Hobbs High School in 2018, and went on to play for New Mexico Military Institute, a junior college from Roswell, New Mexico, for five games in the 2018 season. During his time at NMMI, there was a lot of internal struggle and conflict with Hardison and with his offensive coordinator at the program. He did not get as much free reign on offense as he did in high school, but he was able to grow and become much more disciplined. He improved his grades and, although there were times when doubt came into mind, according to his parents, even considering returning home to play for the local junior college, before being convinced by his parents to keep going and not give up. 
"He had goals on what he wanted to do and he just kind of stuck with it," June said.  
After a solid season as quarterback and performing well, despite the struggles of his relationship with the offensive coordinator, Hardison still had no serious contenders or offers to jump the any Division I university, which was his dream. Then, UTEP's head coach Dana Dimel had come to see another player from NMMI during workouts, before spotting the young quarterback. Soon after, Dimel invited Hardison to workouts with UTEP which was received graciously by him and his family. 
"(Dimel) is a really good guy, and I could tell he genuinely cared about me and my family, and my future, and it wasn't just about football for him it was about growing into a good, young man," Hardison said.  
"My choice was really easy because, I mean, I have all the respect in the world for coach Dana, and I've said that multiple times, not only for him, but his assistant coaches as well."  
Now, after Dimel took his chance on the small-town kid with a big-time arm and work-ethic, Hardison has made an almost immediate impact in his starting role, helping to lead UTEP to their first bowl game in seven years, after earning a winning record with seven wins and six losses overall. Hardison became the first UTEP quarterback since 2009 to break 3,000 throwing yards in a single season. He threw for 3,217 yards, which is the fifth highest tally in school history. He ranked third in the country in passing yards per completion. He has also thrown for 24 career touchdowns, which marks him at the 10th most in school history. 
Like his story in each level, he has played at, his arduous work, his passion, his competitive drive, and his talent has made him something to behold in awe as he seems only to be getting started at the D-1 level, visibly becoming surer and more confident in himself with each game.   
A CONTINUACIÓN, EN BREVE
Por Brandy Ruiz
Gavin Hardison es el quarterback del equipo de football de la Universidad de Texas en El Paso (UTEP).
Hardison asistió a Hobbs High School, la única escuela secundaria en el área. Era un estudiante de primer año tranquilo, modesto, pero devoto y trabajador, según su entrenador de fútbol de la esquela secundaria, Charles Gleghorn. Su espíritu competitivo, su ética de trabajo y su actitud tranquila pero decidida llevaron a los entrenadores a confiar en él, que podía llevar al equipo al éxito.
Hardison se graduó de Hobbs High School en 2018 y pasó a jugar para el Instituto Militar de Nuevo México, una universidad junior de Roswell, Nuevo México, durante cinco juegos en la temporada 2018. No obtuvo tanto reinado libre en la ofensiva como lo hizo en la escuela secundaria, pero pudo crecer y volverse mucho más disciplinado.
Luego, el entrenador titular de UTEP, Dana Dimel, descubrió al joven mariscal de campo en una de sus visitas de reclutamiento en NMMI. Poco después, Dimel, que fue recibido amblemente por Hardison y su famila, invitó a Hardison a entrenamientos con UTEP.
Luego de que Dimel haya tomado la oportunidad con el niño de la pequeña ciudad con un gran brazo y ética de trabajo, Hardison ha tenido un impacto casi inmediato en su papel de titular, ayudando a llevar a UTEP a su primer juego de tazón en siete años, después de ganar un récord ganador con siete victorias y seis derrotas en general. Hardison se convirtió en el primer mariscal de campo de UTEP desde 2009 en romper 3,000 yardas de lanzamiento en una sola temporada. Lanzó para 3,217 yardas, que es la quinta cuenta más alta en la historia de la escuela. Ocupó el tercer lugar en el país en yardas de pase por finalizacíon. También ha lazando para 24 touchdowns en su carrera, lo que lo marca en el puesto 10 en la historia de la esquela.