Mahrianna Petree: and the world of college basketball
February 1, 2023
Mahrianna Petree and her sisters were holding toy basketballs before they could walk.
"My dad told us that when we were little girls, there were basketballs in our cribs," Petree said.
Petree is a senior at the University of Texas at El Paso and a Division 1 athlete.
Petree recalled that her father tasked her and her sisters to play one-on-one games of basketball against each other growing up. This challenged her, she said, because they were "bigger and stronger" than she was. She recalled how her father would promise a Wendy's Frosty to whoever came out as the winner. Her father usually settled any competitive tension that may have raised.
"I miss those days, being able to play against my sisters all the time," Petree said.
It wasn't until the fourth grade that Petree got to play on an actual team. She hasn't stepped off the court since.
Petree has played for various teams throughout her athletic career. But there's one constant that has been a staple in her life and basketball journey: her father.
Her dad who played varsity basketball in high school and later, at Iowa Central Community College ignited her passion.
Petree's dad Jamey Petree owns his own training gym, Get Skillz Basketball. There, not only did he coach Petree and her sisters, but also athletes that have gone on to play professional basketball, such as Crystal Bradford, a Women's National Basketball Association (WNBA) athlete.
"I've trained over 30,000 basketball players now," her dad, Jamey Petree said. "I can't even finish on how many professionals came through there, from NBA to the WNBA to overseas."
According to Petree, Bradford still visits her dad's training gym when she is in town.
These professionals come to play but, they also share their knowledge of life in the WNBA, Petree said. These professional athletes emphasize to up-and-coming players how important it is to get in extra practice, because of how "vicious" the competition is.
Following in their father's footsteps, Petree played alongside her older sister, Lasha, for her first two years of college.
"Whatever the team needed, she filled that role," her sister, Lasha Petree said.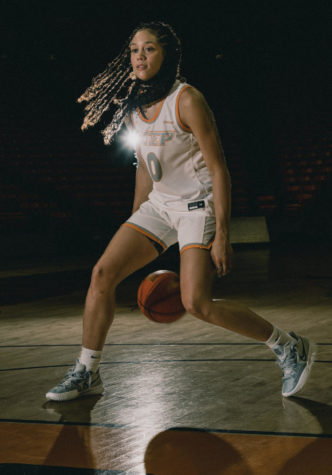 Before transferring to UTEP, Petree attended Bradley University in Peoria, Illinois.
Although only one of her sisters shares the same love of basketball as her, Petree is very close to both.
"My sisters are my best friends," Petree said. "They're my backbones."
Petree's family describes her as the "energy player" of any team she plays for. Her strength is rebounds, her family said, and that Petree succeeds no matter what position she plays.
But Mahrianna Petree describes herself as being an emotional player. She remembers a game from her youth in which a man from the stands made a remark about girls not being good at basketball.
"I went out there and tried to play as hard as I could, and be as good as I could," Petree said.
But, when she let the emotion get the best of her, it all went downhill.
"I remember playing terrible and feeling like I let that guy win," Petree said.
Since then, Petree has learned not to act based on her emotions because it affects how she plays. This is something she still believes in and practices for each game.
Playing for UTEP
For Petree, playing for UTEP was one of the greatest journeys she has encountered so far. Transferring from Bradley University, Petree said she feels that UTEP came in at the right time in her life.
"UTEP is a blessing," Petree said.
She has also built strong relationships with her teammates and said they welcomed her with open arms. Petree said that she honors UTEP for what they represent: teamwork.
"Teamwork is everything," Petree said. "We're stronger together."
Petree also likes to thank her coaches and the women's athletic department for what they have done for her.
"They provide a place where people can come, be who they are and grow," Petree said.
But the balance of school and playing the game is a delicate one.
"College is hard," Petree said. "Figuring out your life and being on your own is very tough."
The coaches of the UTEP women's basketball team provide tutors for the athletes, making sure they stay on top of their assignments not just during the season, but each semester.
"I always have my schedule to look at," Petree said. "If I can't see it, I'm not going to know what's happening."
Petree likes to have a hard copy of her schedule and makes sure she is "clued in" with her professors.
On game day, Petree makes sure to "eat a lot" hours prior. She also has a snack that she keeps in her locker during pre-game warm-ups. These warm-ups include ball-handling, form-shooting and
shots. Petree leaves her jersey inside her locker during this time. When she returns to the locker room, she has a silent prayer by herself, before leading the group prayer with her teammates.
Growing up in a religious household, Petree said that her mom always taught her and her siblings to put God first and thank him for all their victories and opportunities.
Petree prays over her mindset, both within the game and with God. She also prays that she is not distracted with things that are not for her.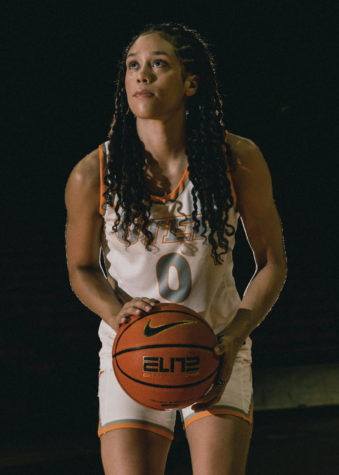 Petree's support circle starts with God, as he is the "head of her life."
"God is number one," Petree said. "I am nothing without him."
Following God, Petree said she is supported by her parents, siblings, grandmother and teammates.
"I always go to my mom if there's anything I'm going through or need help with," Petree said. "I can't not give Grandma Petree a shoutout. She has shown me what it means to unconditionally love people."
The fans are also an added plus.
Petree prefers playing home games, rather than away games because of the support that the city of El Paso has shown her.
"When we played Southern Mis' at home and we beat them, there were so many people there and the stadium was so electric and so loud," Petree said. "Our fans make the experience so amazing."
Despite being cheered on by so many, Petree blocks out the crowd during the game.
"When I'm playing, I really don't' hear or see the crowd," Petree said. "After the game is when I'm talking to people."
NIL Laws at UTEP
The National Collegiate Athletic Association (NCAA) has argued for years that amateur athletes cannot profit from things like jerseys or autographs. However, the Name, Image and Likeness (NIL) Laws took effect in Texas on July 1, 2021, giving college athletes the opportunity to make money solely based off their "name, image, and likeness." What this means is that student-athletes are now allowed to make money from appearances, sponsored social media posts and more. The Texas State Senate approved these laws with a 28-2 vote, being the fourteenth state to do so.
To comply with the state, UTEP provides their own digital copy of the NIL laws that can be viewed by the public. The document is four pages long, broken into sections starting with the purpose, and varying from violations, consequences and more. Following the purpose, the document starts off listing the responsibilities of the UTEP Athletics Department and student-athletes. From there, the document includes legal disclosures, education, boosters and sponsors and ends with violations and consequences.
In this document, UTEP also states that student athletes are still eligible for financial aid, even if they use their name, image and likeness for compensation.
"When I came here, that was the first year that it was a real thing," Petree said. "There were rumors that college athletes were going to profit from their name, image and likeness."
The coaches of UTEP's women's basketball make it a priority to inform all their players early on in their season through a team meeting. It was in a Spring 2022 meeting where Petree learned about it herself.
When these laws came into play, college athletes from all over began making content showcasing their talent, releasing merchandise, and hoping to gain fame from it.
"I remember seeing a lot of players on social media that were big names, getting deals and talking about things opening up," Petree said. "A bunch of people dropped their own lines trying to capitalize off of that right away."
UTEP has done its part to instill in its college athletes the importance of NIL Laws.
"UTEP has done a few debriefings on what the NIL Law changes have been for the NCAA," Petree said.
Protecting her Image
For the sake of her college career, Petree keeps her social media profiles clean for anyone who may be interested in signing her.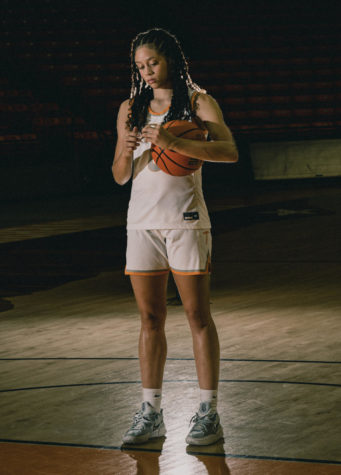 "I've always been told since I started wanting to play basketball that coaches look at your social media," Petree said.
Upholding her image is especially important to her, describing it as something that was built into her life.
Petree wants to make sure that she is seen by the public in a positive way.
"Because of my foundation, it's reflected in my social media and how I carry myself," Petree said. "The attention to how I'm perceived by others and making sure that it's light, love and good things to be representing."
In addition to keeping a clean profile, Petree feels that popularity is essential to successful basketball career.
"You have to know how to get your name out there and network," Petree said. "And if you can't do that, they've (referring to Bradford and other pros) told me that it's very difficult for a lot of players."
Petree advises young athletes to not only know the NIL Laws, but to make sure it is the right decision.
"If an opportunity comes, make sure it's right for you," Petree said. "Learn as much as you can and ask questions."
Future plans
Even with her heart devoted to basketball, Petree is not sure if it will be a part of her future.
"I don't know what my life will be after college," Petree said. "I just want to be where God wants me to be. If that's on the court, I'm open to that."
Nonetheless, Petree would still be grateful to have a professional career in basketball.
"If I got signed, and I made the decision to sign, I think it would mean I'm where I'm supposed to be," Petree said. "I think that little girl inside of me would definitely be super ecstatic about the opportunity."
EN BREVE

Por Brandy Ruiz

Por lo general, los atletas universitarios pasan toda su vida preparándose para convertirse algún día en profesionales. Aparte de horas y horas de práctica, estos atletas son responsables de mantener sus buenas calificaciones y su vida diaria. Con las leyes de Nombre, Imagen y Similaridad (NIL), en efecto por casi dos años, los atletas ahora tienen que agregar la auto-promoción a su lista de responsabilidades como estudiantes universitarios.

La atleta de la División 1 de UTEP, Mahrianna Petree, compartió su viaje con la revista Minero y cómo fue capaz de convertirse en estudiante-atleta mientras equilibraba su vida estudiantil y personal, así como la incorporación de las nuevas leyes NIL en su vida.

Petree, que actualmente es una delantera del equipo de basketball femenino de UTEP, ha estado jugando baloncesto desde antes de poder caminar.

"Mi padre nos dijo que cuando éramos pequeñas, había pelotas de baloncesto en nuestras cunas", dijo Petree.

No fue hasta el cuarto grado que Petree tuvo que jugar en un equipo real. Desde entonces no ha renunciado a la cancha. Durante sus primeros dos años de universidad, Petree jugó baloncesto en la Universidad Bradley en Peoria, Illinois junto a su hermana mayor, Lasha.

"Mi mamá me ha enseñado toda mi vida que hay regalos que Dios nos da y que hay cosas que estamos llamados a hacer", dijo Petree. "Creo que el baloncesto es un regalo que Dios me ha dado".

Leyes NIL en UTEP

La National Collegiate Athletic Association (NCAA) ha argumentado durante años que los atletas aficionados no pueden beneficiarse de cosas como jerseys o autógrafos. Sin embargo, las leyes de Nombre, Imagen y Similaridad (NIL) entraron en vigor en Texas el julio de 2021, dando a los atletas universitarios la oportunidad de ganar dinero basándose únicamente en su nombre, imagen y semejanza. Ahora se permite a los estudiantes-atletas ganar dinero con apariciones, publicaciones patrocinadas en las redes sociales y mucho más. El Senado del Estado de Texas aprobó estas leyes con 28-2 votos, siendo el 14 estado en hacerlo.

El documento incluye divulgaciones legales, educación, impulsores y patrocinadores y termina con violaciones y consecuencias.

En este documento, la UTEP también establece que los estudiantes-atletas siguen siendo elegibles para recibir ayuda financiera, incluso si utilizan su nombre, imagen y semejanza para obtener una compensación.

Por el bien de su carrera universitaria, Petree mantiene limpios sus perfiles de redes sociales para cualquiera que esté interesado en firmarla.

"Siempre me han dicho desde que empecé a querer jugar al baloncesto que los entrenadores miran sus redes sociales", dijo Petree.

"Debe saber cómo hacer que su nombre y su red se conecten", dijo Petree. "Y si no se puede hacer eso, me han dicho (refiriéndose a Bradford y otros profesionales) que es muy difícil para muchos jugadores".

Petree aconseja a los jóvenes atletas no sólo conocer las leyes NULAS, sino también asegurarse de que es la decisión correcta.

"Si surge una oportunidad, asegúrese de que es la adecuada para usted", dijo Petree. "Aprenda todo lo que pueda y formule preguntas".

Planes a Futuro

Incluso con su corazón dedicado al baloncesto, Petree no está segura de que tendrá un futuro en el baloncesto universitario.

"No sé cuál será mi vida después de la universidad", dijo Petree. "Sólo quiero estar donde Dios quiere que esté. Si eso está en el tribunal, estoy abierto a eso".

Sin embargo, Petree todavía estaría agradecido de tener una carrera profesional en baloncesto.