Al borde de… esencia de la vida estudiantil
Daniel Correa, de 21 años, obtuvo su primer préstamo antes de cursar su primer semestre de verano en UTEP. "Lo tuve que sacar porque prácticamente pague por todas las clases que tomé", dice.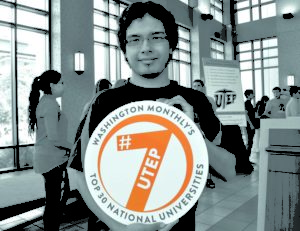 Daniel, un estudiante de tercer año en sistemas de informática, ha contemplado obtener un segundo empleo para poder solventar sus gastos. Aunque actualmente trabaja en UTEP como asistente de oficina y recibe una cantidad por concepto de préstamos, tiene dificultades para mantenerse estable económicamente. Además le ayuda a sus padres al mantenimiento del hogar.
"La mayoría del préstamo va para ayudar a mis papás. Los dos trabajan duro pero apenas ganan lo suficiente para cubrir los gastos de la casa", dice Daniel. "El préstamo lo gasto en fracturas, mandado y una cita de vez en cuando para mis papás porque nunca tienen la oportunidad".
La realidad de muchos de los estudiantes en El Paso—donde según cifras del Censo el 25 por ciento de la población vive bajo el nivel de pobreza–es parecida. El 75 por ciento de estudiantes en UTEP reciben algún tipo de ayuda financiera gubernamental y la mitad reciben la Pell Grant, de acuerdo con cifras de University Communications.
Diana Natalicio, presidenta de la universidad, ha dicho que proveer acceso a la educación es una de las funciones más importantes de UTEP. En septiembre, la revista Washington Monthly reconoció los esfuerzos de UTEP y la colocó en séptimo lugar entre las universidades estadounidenses por categorías como movilidad social, investigación y servicio comunitario.
Los hispanos en la frontera texana ganan menos que los no-hispanos, de acuerdo al American Community Survey 2009-11. Hispanos con educación a nivel universidad gana en promedio $50,300 anuales, mientras los no-hispanos ganan un promedio anual de $71,000.
"Lograr acceso y educación de alta calidad en un lugar de bajos recursos como lo es la frontera de Estados Unidos y México requiere un compromiso profundo de parte de todo el personal para asegurar que los estudiantes, quienes ponen sus ambiciones en nuestras manos, se les den todas las oportunidades", dice Natalicio en un comunicado.
Gina Nuñez-Mchiri, profesora adjunta en antropología, dice que UTEP, por su ubicación y compromiso con la región, desempeña un papel importante en la formación de sus estudiantes. La universidad no solo los prepara para prosperar en sus carreras, sino también para fortalecer los lazos de esta región, aún si deciden mudarse, dice.
"Por el hecho de que han estado aquí y porque vienen de esta comunidad, están conectados a esta comunidad, y tienen un compromiso con ella, salen y donde quiera que van dan fruto. Crecen, florecen", dice Nuñez-Mchiri.
La experiencia fronteriza, compleja y difícil de definir, es sin embargo un experiencia valiosa, dice Nuñez-Mchiri. Estudiantes de aquí se llenan de lo que ella llama fondos de conocimiento.
"Nuestros estudiantes salen curtidos", dice Nuñez-Mchiri. "Muchos de ellos trabajan, tienen problemas familiares, algunos cruzan la frontera, algunos tienen problemas de transportación y además se involucran. Eso es crear resistencia en nuestros alumnos, ayudándoles a competir y a encontrar soluciones a sus retos. Yo se que no van vacíos".
Este semestre, Laura Flores, de 21 años, se dio cuenta de que no tenía la línea de crédito necesaria para pagar sus clases con su tarjeta de crédito. Ya no tenía la beca con la que pagó los primeros tres años de su carrera en UTEP y estaba haciendo pagos a la tarjeta de crédito de sus padres que utilizó para pagar el semestre pasado. Así que primera vez pidió un préstamo.
Laura, estudiante de cuarto año en inglés, trabaja medio tiempo en Best Buy para pagar sus estudios y poder mantenerse. Lograr un balance entre sus estudios y el trabajo se le hace difícil, dice. "A decir verdad, es muy difícil priorizar y batallo tratando de hacer demasiadas cosas a la vez", dice Laura.
Pero maneja su tiempo bien, dice, y hace pagos de 150 dólares mensuales a la tarjeta de crédito de sus padres. "Aunque batalle, amo mi trabajo y lo veo como una distracción de la escuela y mi vida personal".
Daniel dice que también limita sus gastos. Durante los semestres de primavera y otoño, obtiene aproximadamente 700 dólares por semestre, y en el verano 2,000 dólares. Pero lo que gana trabajando en UTEP, es apenas suficiente para vivir día a día.
"Exprimo cada centavo de mi cheque para pagar por mi carro, la aseguranza, gasolina, mantenimiento—la factura del teléfono y lo poco que queda para mis papás y yo", Daniel dice.
Laura dice que si le cuesta trabajar, estudiar y además mantenerse, pero vale la pena. "Si hay días que se me hacen extremadamente difíciles, pero al final del día amo mi trabajo y mis estudios", dice Laura. "Amo trabajar duro para cumplir mis metas".
Daniel también sabe que su trabajo dará fruto. "Por el momento, solo intento limitarme hasta que me gradúe y ojalá consiga un trabajo que pague mejor", el dice.
Para Nuñez-Mchir, el ascenso social no solo significa subir un peldaño en clase social. "Es mucho más que eso. Porque cuando tienes educación puedes hacer mucho con ella. Te abre puertas," dice. "Te da la decisión de quedarte o irte y regresar si quieres. Si no tienes ascenso social significa que estas atrapado".
The reality of many students in El Paso—where 24 percent of the population lives below the poverty level, according to the U.S. Census 2008-12—is similar to Daniel Correa's.
Daniel, a junior computer information systems major, has a job as an office assistant at UTEP, but says he is forced to take out financial aid loans to pay for school and to remain economically stable while helping his parents out.
"The money I earn as a UTEP employee leaves me living paycheck to paycheck, having to squeeze every penny out of them to pay for my car, phone bill, and whatever little remains for my parents and myself," he says.
Seventy five percent of UTEP students receive some sort of financial aid and more than half receive the Pell Grant, according to University Communications.
Struggling to make ends meet is part of the regional experience, says associate professor of anthropology Gina Nuñez-Mchir, but she says this makes them stronger and reinforces their ties to the community.
"Our students salen curtidos," she says, meaning they are hardened. "So many of our students work, they have family challenges, some cross the border, some are dealing with transportation issues and getting involved, pues ¿sabes qué? That's building resilience amongst our students, helping them compete, find solutions to their challenges."
Leave a Comment