A bridge between cultures
By Andrés Rodríguez
Leélo en español
Opera theaters don't exist in Bhutan, located in the Himalayas, but Stefano Vizioli has members of the Royal Academy of Performing Arts in Bhutan in a rehearsal preparing their entrance to an improvised stage. Some of the actors carry flags, others tambourines and each one from their corner dances to the center of the stage.
Vizioli, who's an opera director in Rome, is Opera Bhutan's stage director and since 2012 has been a part of the team that's prepared four international professional singers, musicians and dancers of the Royal Academy and the more than 30 UTEP students that are part of the opera's choir and orchestra.
But Opera Bhutan, which will premiere Oct. 12 at the Royal Textile Academy in Thimphu, has taken years in preparation.
Aaron Carpene, a musical director based in Rome, traveled, produced and recorded throughout Europe while he worked as a musical assistant for Alan Curtis in 2004. It was one of the best Handel orchestras in the world, Carpene says, but he wanted to place the music in a different context.
"It was all very nice to work in this, you know, with that higher level of production of artistic value, but I was thinking that it would be interesting to take one of these operatic productions to a different context, something completely different, to give it new air, to give it new space," Carpene says.
His friend, Preston Scott, who then worked as an environmental lawyer in Bhutan, told him that the bhutanese were looking for some kind of new musical proposal to take to their country. Carpene began to work on the project and started developing Opera Bhutan. "At the beginning it was a castle in the air. I mean it was a crazy idea and initially it seemed totally improbable and totally unrealizable," Carpene says. "In fact for many years we were searching a partner, if you'd like, who would be able to give the project legs."
In 2008, with the economic crisis and the change of government in Bhutan, the project seemed unattainable, Carpene says. "(It) was a year which seemed like a very down year for the project and it seemed for those two reasons that it would never get off the ground."
That same year, Bhutan was the guest country at the Smithsonian Folklife Festival in Washington D.C. Scott was then the festival's curator and Carpene became aware that UTEP was to receive the Bhutanese temple or the Lhakang built for the festival. Thus he found the partner he was looking for to carry out the opera. "Preston (Scott) thought, 'Wow, if these people from Texas are interested in…a temple maybe they're also interested in supporting our crazy project that we were talking about,'" Carpene says.
Opera is completely unheard of in Bhutan, Carpene says, and adds that while he was researching the project the last thing he wanted to do was arrive and colonize the Bhutanese with a western art. "I thought, wouldn't it be more interesting, wouldn't it help also our Bhutanese friends to understand our art form better if they are actively involved in the project, rather than just being passively part of an audience?" Carpene says. "So I thought, great this is wonderful, why don't we make this into a culture dialogue, where we can — within this story line — insert aspects of traditional bhutanese music, dance and signing."
Carpene decided on put on Geroge Frideric Handel's "Acis and Galatea" because he found in it shared elements between the western and oriental worlds, which helped him link the art of the opera to the Bhutanese culture. "I've been looking, I've been researching, I've been studying our culture, greek myth etc," Carpene says. "I've been studying Bhutanese culture to try and identify these common aspects and through that we are able to better create these bridges so that the end product is not so schizophrenic, it's more of a homogenous idea."
Some of these common elements appear in the production, such as as "Cyclops," who represents Mount Edna, while Bhutanese traditions dictate that gods live on the mountains.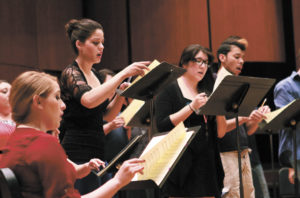 Leslie Yapor, a senior commercial music major at UTEP, attended a recital where Elisa Frase Wilson, voice and opera professor at UTEP, outlined the requirements to be a part of the cast. "I just decided let's try it, let's give it a shot, see what happens," Leslie says. "I really didn't go in to the audition room thinking I'm going to get a spot. It was just more of a throw seeds and see which one does grow into a little flower and this one did."
Leslie, part of the Arab music ensemble at UTEP, sang Handel's "V'adoro, pupille" for her audition and landed a part in the chorus, which, she says, aid in commenting on the story and establish the action and context.
"They're giving us a chance to be exposed to this project that could have been done by professionals all the way," Leslie says. "It'll be the first live opera production in Bhutan ever, so we are premiering this kind of music in another country. That's a pretty big deal. It's a mile stone."
Nathan Black, of Washington D.C., enrolled at UTEP to study the cello with Zuill Bailey and was invited be a part of the opera last spring. "As things grew more closer and closer to this event, we learned more that this was a collaboration not just with the choral department at UTEP, but with some of the best early music specialists in the world," Nathan says.
Wilson, Vizioli and El Paso Opera Director, David Grabarkewitz, along with Carpene and Scott, serve as Opera Bhutan's directors. The cast also includes professional singers from Italy, the U.S., Canada and Cameroon, along with musicians from the Royal Academy of Performing Arts in Bhutan and the Royal Textile Academy.
"The special part is that we'll be performing this opera in early music style," says Nathan, who plays the part of the basso continuo. "Aaron Carpene first started working with us last year and trained the musicians to play in the style…This style takes months and months of preparation."
Early music encompasses the periods of music which include styles that differ from classical western music of the XVIII and XIX centuries. It includes the periods that precede classical music, medieval, renaissance and the baroque. Wolfgang Amadeus Mozart adapted "Acis and Galatea" in 1788 with a contemporary style, something that Carpene says diminished Handel's original intentions.
As part of the university's centennial celebration, Opera Bhutan will have its UTEP premiere in October 2014.