Free downloading: Students look online for free alternatives for books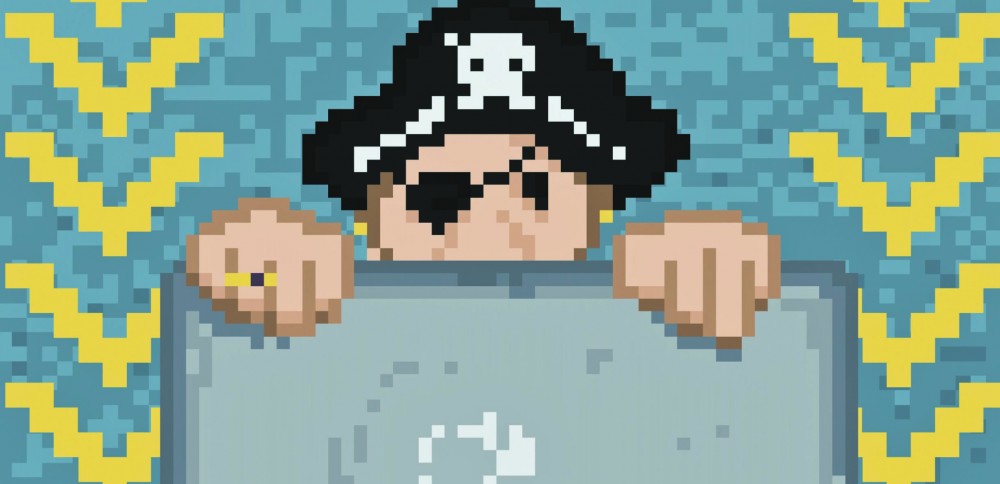 By Miguel Orta, translation by Andrés Rodríguez
Léelo en español
For Valeria Reyes, every penny saved counts. A freshman at the University of Texas at El Paso, she pays approximately $3,600 in tuition each semester out of her own pocket, and she finds it difficult to also pay for textbooks.
Students who find themselves in similar situations have turned towards the free downloading of books online as an alternative to save some money. "Paying for your own education is very difficult, I have to maintain three jobs to keep studying at UTEP," Valeria says. "I don't justify not paying the authors of these movies, songs and books their due salary, but paying up to $600 for books along with the costs of the semester becomes very difficult."
According to an informal survey conducted on campus by Minero Magazine at the Union Building and the library, 67.3 percent of UTEP students, who use the Internet regularly, admitted to having regularly downloaded files illegally, and 55.2 percent have downloaded or had access to an online textbook without having paid for its license.
Attributor, a company dedicated to protecting authors' copyrights, estimates $2.8 billion in annual losses from illegal downloads through p2p (peer-to-peer) sites such as Rapidshare.
UTEP prohibits the use of illegally downloaded material, according to article 1.3.9.3 in the Handbook of Operating Procedures, "unauthorized copying of programs and/or data means copying computer programs or data without the effective consent of the owner of the programs or data. The authorized use of another person's program or data is considered plagiarism." The penalties for plagiarism can vary from placing the student involved in academic probation to expulsion.
Even so, students continue downloading files illegally for various reasons, from the possibility of trying out a product before buying it to the availability of material that cannot be legally bought on another site. But generally, students say they download for economic reasons. Several students say they refuse to pay for a product that they would use only once, or products that if not available for free they wouldn't consume.
"Looking at the rise of the total price in higher education, along with the economic hardships (of the country), students find themselves looking for opportunities to reduce costs and keep within their reduced budgets," says Fernando Padula, manager at the university bookstore. "Close to 11 percent of university students don't buy all of their required material due to the cost."
A geology student, who prefers to hide his identity to prevent problems with the university, pays close to $2,200 for each semester he studies at UTEP. Besides tuition, he has to pay for transportation, school supplies and textbooks, which he says adds up to an additional cost of about $350 per semester.
Affected by the economical situation and the lack of jobs in the country, the student looks for any alternatives to save some money. "I download my books for free from the Internet because it's easier to access them from my computer and I can make notes on them without destroying the material. Not all of my text books can be bought in a digital format, downloading them for free is easier and cheaper than buying the physical copy."
The high cost of textbooks at the university bookstore has led some students to buy their books elsewhere, such as buying used books or downloading them through BitTorrent or Scribd.
Padula recognizes that while the book prices are high, alternatives to ease the access to students have been sought.
"The publicists' initial prices are set by an agreement between the school and the bookstore's operator (Follet Higher Education Group)," Padula says. "Follet seeks to help students save by offering them options, like renting, buying digital or a selection of used books inside the store or online through efollet.com."
Padula adds that buying a used book at the bookstore accounts for a 25 percent discount from the original price, while renting from Rent-a-text, on average, discounts 50 percent or more compared to the price of a new textbook. The digital selling through CafeScribe generates a 40 to 60 percent discount off the original sale, according to the bookstore.
Some consider downloading materials as "piracy" and as disrespectful to authors, who work hard at creating their work and even hold great affection for their work. Such is the case for Valeria Contreras, an El Paso illustrator and writer, author of the didactic comics, "Jaime's Jungle" and "Play Shop."Watch movie online The Transporter Refueled (2015)
"It took me lots of time to make these comics. I have to think about the characters, the story, how they can and should interact (and how this would affect the plot)," Contreras says. "After spending a lot of time planning and just thinking, I begin to draw, followed by inking, followed by scanning and then coloring. It is a lot of work and requires a lot of love and dedication…to simply be copied…piracy has made authors lose out on profits that they would have received otherwise, it's disrespectful."
There are several authors and students that support the legalization of free downloading, or are at least against its penalization. According to the same survey conducted on campus among students who are mostly regular Internet users, 67.2 percent of them believe that free downloading is not synonymous of theft and should be permitted. "The Internet can be seen as a global library of information," the geology student says. "Downloading protected files is the same as making copies of a book from the library."
Despite being against piracy, Contreras is empathetic for those who don't have money to purchase a book. "I would be willing to meet people, to give presentations and even books and merchandise if the cause is just and honest instead of somebody pirating my work," Contreras says.Watch Full Movie Online Streaming Online and Download
The geology student says he appreciates the work of authors and seeks to buy the original material when the product convinces him. However, often his economical situation doesn't let him. "Downloading it is the difference between having it or not, and sometimes that's the only option."
Leave a Comment