Permission to stan: K-pop fan culture in El Paso and how it led to opening a new business 
Lizbeth Lopez, a 21-year-old Korean pop (K-Pop) fan, doesn't speak Korean, but her favorite songs are in Korean and her favorite artists are the members of the Korean Pop boy-band BTS which stands for bangtan sonyeondan, translated literally in English: "Bulletproof Boy Scouts" or "Bangtan Boys."
 "It's not something that bothers me," Lopez said. "I like to also look at the romanization (pronunciation) of the Korean lyrics so that I can pronounce the Korean lyrics as close as possible when singing along."  
It's just a small part, Lopez said of what it is like being a fan of "good music". 
BTS, TXT, EXO, ITZY, STAYC – no, that is not a bunch of gibberish. These are the names and abbreviations of Korean Pop star boy-bands, girl-bands and idols all of which have followings that amass in millions.  
These followers, fans, stans, or "army" (just some of the many names they use to refer to themselves based on the group that they follow) come together to support their favorite boy or girl bands and even connect with others across continents. Maybe you've seen the accounts of some of these followers comment under a random tweet or viewed a Korean pop-star's dance routine on TikTok, posted by a fan account with a profile image of their favorite group-member, whatever it may be, they're everywhere – in New York, Florida, California and Texas, including El Paso.  
K-WHAT? WHY? 
According to RollingStone, recent Korean Pop (K-Pop) stardom began making an appearance in the United States when Korean pop-star Psy released his song, "Gangham Style", in 2012. The official music video has racked up 4.2 billion views since its debut and is ranked as the number one most viewed video by a Korean artist.   
Even though Psy is widely credited as the first K-pop artist to go global for his viral success, K-Pop groups like the 1950s women-trio, The Kim Sisters, have existed long before his debut. In fact it was actually The Kim Sisters who introduced Korean "popular entertainment" to the United States.   
Then, a 2019 TeenVogue story reported, in the 90s we saw groups made up of trained entertainers and later a shift to what is called "idol culture." It was this shift that eventually produced the modern-day group, BTS, who broke into the scene at number one on the May 2018 US Billboard 200 chart and later completely blew past any previous records and are now often credited as the direct result of the evolution of K-Pop.  
That same year, Lopez, who was in high school then, had first discovered the group BTS. 
"I was just really bored one day and I searched one of their music videos and I was amazed. Their performances were amazing," Lopez said.  
Lizbeth Garcia, 21, a creative writing major at UTEP,  was first introduced to K-pop when she began watching K-dramas (Korean television shows). After finding that one of the actors performed in K-pop group, ASTRO, she became a fan of the music genre. 
Although a world filled with vibrant colors and a different sound, Garcia wants those who aren't fans to know that there is more to K-pop than what it presents itself to be.   
"It is much more meaningful and diverse," Garcia said. "A lot of being a K-pop artist comes with pain and success."
THE STRUGGLE IS REAL  
Since that moment, Lopez has built a collection of BTS memorabilia, photos, albums and more that takes up two-bookshelves, an entire wall of her room. Though, that is not uncommon in the world of BTS army.  
In fact 31-year-old Mercedes Reyes has been a K-Pop fan almost her entire life has cultivated a collection of items like posters, cassette tapes, toothbrushes and even concert memorabilia called "army bombs" that cover almost every inch of her room. 
CNBC estimates that each year, BTS adds $3.6 billion to the Korean economy and more than $1.6 billion to consumer exports.  
Lopez has all of their singles.  
"I try to buy everything just because I like having them," Lopez said.   
But, sometimes buying the same merchandise as fans in other states or even different merchandise proves to be somewhat difficult in El Paso, Reyes said. 
In the month of July 2021, Reyes organized a meet up event where other El Paso BTS fans could trade merchandise or even buy some photocards or posters of their favorite members. Reyes' efforts are just one example of what local fans do to overcome the hurdle of finding the merchandise of their favorite groups in El Paso. 
Even though the spread of K-Pop in America was rapid and has underscored many viral TikTok trends, fashion and more, there hasn't been a dedicated place for fans to go to in the far-West tip of Texas. That is, there hadn't been until October 2021, when Instagram account @kpopelpaso announced K-POP El Paso, a now-opened business that sells K-Pop albums, goods and "K-stationary,", on Instagram in a "Now Hiring" post.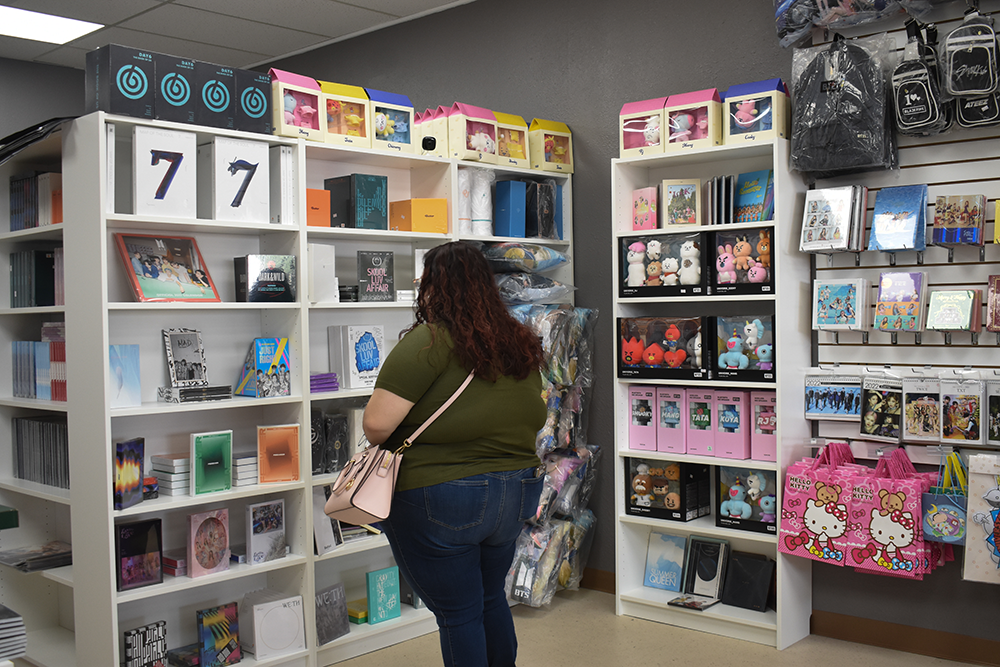 The store is one out of a eight K-Pop stores in Texas owned by Kihun Lee, who opened his very first shop in Mcallen, Texas during the rising years of K-Pop's entry into mainstream media in the United States. It was during a visit to his Houston store that a customer told Lee that he "had to open a store in El Paso". He considered the location, its proximity to Mexico and got enough requests that he finally opened the store just behind El Paso's Fountains at Farah outdoor shopping center. 
"In the beginning, I think, almost five or six years ago after EXO there was a small wave (of fans & excitement). After that, the BTS boom," Lee said.  
Conversations with fans and even El Paso's only K-Pop shop owner all tie back to BTS, who debuted in 2013 and paved the way for newer groups like TXT, who debuted in 2019 under the same music label, to occupy the hearts of fans across the world, open minds to foreign media and even hold spots on Lee's store shelves. Seven years later, BTS makes up about 80% of sales, Lee said. 
In fact, even still, the growth of K-pop popularity in the states is rapid and growing at a rate that's even faster, Lee said.  
"I don't know how… one time someone came and asked (about) a new group, but I didn't know it," Lee said. "They teach me. I'm the owner or I have business here but I cannot gather all the information now. Our customers and K-pop fans, they teach me." 
Laura Gonzalez, 25, and a University of Texas at El Paso alumni, created and dedicated an Instagram account, with two others, to BTS with the handle @btsxelpaso to reach out to "individuals who shared the same interest in the Korean boy group BTS."
In fact, it was thanks to Gonzalez's account that Reyes was able to connect and meet other El Paso BTS fans for a BTS movie premier.  
"We all got to know each other like it was just like one big family," Reyes said.  
Initially, the three had a goal of "mass requesting local radio stations in El Paso , Texas, (to play BTS' music) like we saw many other individuals doing in their cities in other states," Gonzalez said, but it has become difficult to balance it with the "regular work we do" and the pandemic. 
As of November 2021, the last image posted on the Instagram account was of a screenshot of a Ticketmaster description for a concert in Los Angeles with a caption encouraging followers to purchase tickets.  
Fans like Reyes and Lopez, were of the many fans nationally who attended the concert in November. 
According to Garcia and Reyes, though many are reluctant to lend an ear to K-pop because of the language barrier and because "perhaps, it's different", the underlying messages of some of the songs about mental health and self-love, just might be what convinces a person to join the BTS army.  
"It doesn't matter what language it is. No matter if they sing in English, Korean whatever language… We can connect with them," Reyes said. 
By Ariel Castillo & Brandy Ruiz
En Breve 

Lizbeth Lopez, una fan de pop coreano (K-pop) de 21 años, no habla coreano pero sus canciones favoritas están en coreano y sus artistas favoritos son los miembros del grupo de K-pop, BTS, que significa 'bangtan sonyeondan', en inglés, "Bulletproof Boy Scouts" o "Bangtan Boys".  

"No es algo que me moleste", dijo López. "También me gusta mirar la romanización (pronunciación) de las letras coreanas para poder pronunciar las letras coreanas lo más cerca posible cuando canto". 

BTS, TXT, EXO, ITZY, STAYC– – no, eso no es un monojo de gibberish. Estos son los nombres y abreviaturas de las boy-bands, girl-bands e ídolos de estrellas pop coreanas, todos los cuales tienen fans que se acumulan en millones. 

Estos seguidores, fans, stans o "army" (sólo algunos de los muchos nombres que usan para referirse a sí mismos basados en el grupo que siguen) se unen para apoyar a sus grupos favoritas e incluso conectarse con otros en todos los continentes. Tal vez hayas visto las cuentas de algunos de estos seguidores comentar bajo un tweet aleatorio o hayas visto bailando K-Pop en TikTok, publicada por una cuenta de fan con una imagen de perfil de su miembro favorito del grupo, sea lo que sea, están en todas partes. 

A pesar de que Psy es ampliamente acreditado como el primer artista de K-pop en globalizarse por su éxito viral, los grupos de K-Pop como el trío de mujeres de la década de 1950, The Kim Sisters, han existido mucho antes de su debut. De hecho, fueron las hermanas Kim quienes introdujeron el "entretenimiento popular" coreano en los Estados Unidos. 

Entonces, informó una historia de TeenVogue de 2019, en los 90s vimos grupos formados por artistas entrenados y luego un cambio a lo que se llama "cultura de ídolos". Fue este cambio el que finalmente produjo el grupo moderno, BTS, que entró en la escena en el número uno en la lista Billboard 200 de mayo de 2018 en los Estados Unidos y mas tarde superó por completo cualquier récord anterior y ahora a menudo se acredita como el resultado directo de la evolución del K-Pop.

CNBC estima que cada año, BTS agrega $ 3.6 mil millones a la economía coreana y más de $ 1.6 mil millones a las exportaciones de consumo. 

López tiene todos sus singles y asistió a su actuación más reciente a partir de noviembre de 2021 en su gira mundial llamada Permission to Dance. 

Ahora, El Paso tiene su primera y única tienda de K-Pop. 

By Brandy Ruiz
Feature photo: Lizbeth Lopez has collected K-pop merchandise since 2018 but one of her most recent pieces is a black long-sleeve shirt from BTS' Permission to Dance concert in Los Angeles.