El Paso Nano-Influencer Lucie Calderon graduates to bigger projects
It was Christmas-day 2010 when the University of Texas at El Paso graduate Lucie Calderon made an account on Instagram, the same year the app was launched. 
She was ten years old, posting "a million" selfies, photos of her dog or anything else that peaked her interest.  
"I always really loved Instagram because I feel like it's a place where you kind of get to like, curate your feed and everything like that," Calderon said.  
Calderon said she grew up on social media through sites like Tumblr, which she appreciated for its collection of curated blogs, niche aesthetics and more. 
"That kind of always, really stuck with me and I was also really into following gardening accounts and flower accounts and things like that," Calderon said.  "So (on Instagram) I feel like I missed both of those and I just got super obsessed with posting just pictures of everything in my life." 
Calderon's Instagram account (@luciecalderon) as of December 12 has over 4.5K followers. Her feed features vibrant flora and fauna, her best outfits, and her most recent brand partnership: Yerba Mate.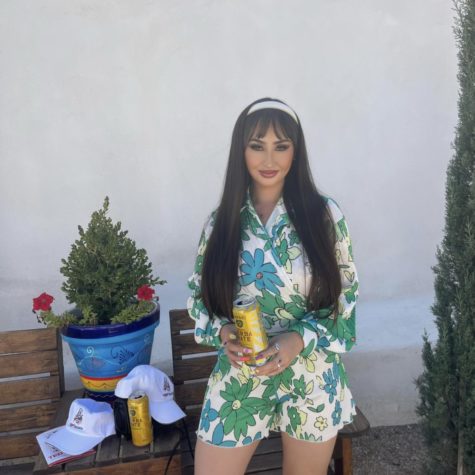 "I think I really have impostor syndrome when it comes to (calling myself an influencer) because I never thought of myself as one, but a lot of people constantly tell me, 'oh my god!  Because of you I tried Yerba Mate, because of you I got my eyelashes and my nails done at Desert EP,"' Calderon said.  "(Calling herself an influencer is) something that kind of feels almost– I would say not superficial, but something that doesn't feel like I can still be self-proclaiming."  
Calderon falls under the term "nano-influencer, "a person with fewer than 10,000 followers as described in a Forbes article posted in March 2022. Working with influencers like Calderon means working with an audience that is more cohesive, more responsive, and more cost-effective, the same Forbes article stated. 
But, for Calderon, social media is not all about gaining follows and likes. 
"What I hope people get from my content is inspiration to try new things or to give that hole-in-the-wall café a chance, or to give a brand that I'm working with a chance as well," Calderon said. "I'm trying to share something genuine rather than how you see a branded post and you could tell that the caption is very much written by the brand. I want to be more of a sense of personality and my own style rather than, you know, just a sponsored post." 
View this post on Instagram
Calderon said that though she does not have a standard for what kind of businesses she works with, she tries to work with those who are passionate about their work, their product or their business. 
"Whenever you have something of your own and you want to share it with the community, it's really special to be chosen as somebody to represent something that you created," Calderon said. " If somebody's asking for my help, by all means I'm more than happy to help them and that's both with social media and personal life as well." 
Calderon has worked with many local businesses like the clothing boutique On Next Sunday and more recently, Drip Drive Aesthetics. 
As of December, Calderon is a UTEP graduate with a bachelor's degree in business marketing with a minor in business management. She also runs Lights by Luz, her own business creating luxury hand-poured candles that are exclusively sold inside an El Paso nail and lash lounge called Desert Beauty. 
Leave a Comment
About the Contributor
Brandy Ruiz, Editor-in-Chief
Brandy Ruiz is the former Editor-in-Chief of Minero Magazine, UTEP's student led bilingual publication. She is also a former participant of the 2021...