The October Issue
A fall 2022 guide into the latest trends and aesthetics amongst UTEP students
Ah, 'tis the season for the rebirth of pumpkin spice lattes, awkward weather, and the UTEP fall semester. 
It is that time of year when planning an outfit may feel like your last priority, not to mention the drastic weather changes between cold classrooms and spiking hot weather or the  good old El Paso plot twist, experiencing sandstorms and rain showers. To say the least, your favorite crop top suddenly doesn't suit every ounce of weather experienced in this city. What do you do then? 
Well, we got you covered. Taking inspiration from a couple of fashionable UTEP students, Minero Magazine is here to help you find the right style for you this fall season!
Grunge is back 
Calling all the angsty teens at heart and Nirvana lovers, this fall UTEP students are leaning back into classic grunge style and embracing the dark side has become the newest trend. 
From the resurfacing of brands such as Vivian Westwood and the rise of  Olivia Rodrigo, a style that involves soft, yet edgy combinations has become a staple throughout 2022. Trickling down and reaching the UTEP campus, students are embracing their inner edge by combining their favorite comfort pieces such as flannels and lace fabrics and mixing them with heavy leather and metallic chains.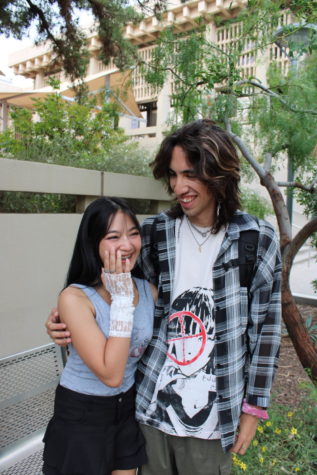 First-year student, Nadeahiko Panlilio, set the example of cute and edgy, they use soft pieces such as lace gloves and leg warmers, and mix them with a flared black mini skirt, along with a gray studded tank top and silver layered jewelry.  
"I take most of my inspiration from Korean fashion and Pinterest," Panlilio said. "Whenever I find something cool and different, I try to use it to build my outfits." 
To achieve the classy yet edgy look, Minero recommends the girls to not be afraid to invest in baggy jeans or cargo pants to mix with your favorite crop top and combat boots. Think edgy, yet delicate, the more effortless you look, the better. 
For the guys, wearing your favorite baggy flannel along with silver chains will give you a subtle edge. To elevate your look, don't be afraid to invest in some fun sunglasses and sell the "modern rockstar" look to the max.  
The Modern Lazy look  
Between early mornings and rushing to classes,  trying to plan an outfit may seem like an unlikely combination when it comes to college students. After long periods of studying and moving around in the heat, comfort does not only seem like a priority but a luxury. Most UTEP students gravitate towards the comfort and cuteness of athletic wear and oversized clothing. Luckily, creating the perfect fall lazy look has become fast and easy. 
Senior Natalia Chaparro shares one of her favorite looks lately captures the concept of cute, yet comfy.  
"At the moment, my favorite trend right now consists of mixing skirts with a crewneck and tennis shoes," Chaparro said. "When it comes to school, I always try to strive for a comfortable look but try and remain to look presentable."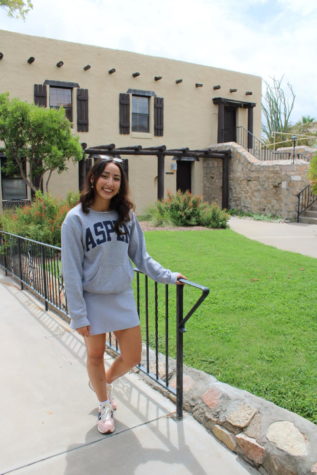 Taking inspiration from Chaparro's look, the key to achieving the modern lazy look is all about  ratios. For the girls, Minero's recommendations include wearing your favorite athletic bottoms such as: tennis skirts/dresses, biker shorts, or yoga pants, and mixing it with your favorite crewneck sweaters, cardigans, or oversized t-shirts. While wearing your favorite pair of dad sneakers for extra comfort, or for a more relaxed look, try shoes such as crocs or slides. 
For the guys, Minero recommends a pair of comfy shoes, along with your favorite pair of loose-fitting pants mixed with a loose t-shirt or your favorite crewneck sweater. And to spice up the outfit, throw on your teams' baseball cap, or beanie.  
Gossip Girl Mania    
Did I hear "Hello Upper East Siders, Gossip Girl here!" or was it just my internal monologue?
According to the current revival of Gossip Girl, back to school is back in style this fall! So, if you are the preppy kind, it is your time to shine. This preppy fall is all about modernizing and layering your simple pieces, while giving off the impression you're late for lunchtime at the MET steps.
The key to obtaining this look is all about simple yet classic layers. Elevating each look with cardigans or a blazer is what truly makes a look more stylish and on theme, while keeping it casual with your favorite jeans and t-shirt.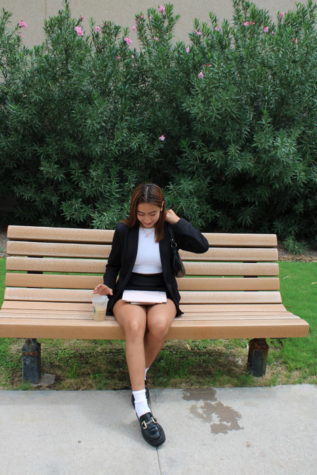 For the girls, Minero recommends also mixing in your cutest pleated skirts and oversized button-ups/vests to go with your loafers and tote bags.  
For the boys, pull out your sweater vests and loose trousers to go with your go-to pair of black/white sneakers, and don't be afraid to be adventurous with a heeled boot and raised platform shoe. 
Sophomore Student Government leader Bryan Perez embodies the preppy style by pulling inspiration from political science and pre-law students but modernizing it.  
"I try and keep my style clean and tidy," Perez said. "I gravitate towards blazers and ties, but I also try and mix it up with a hoodie and sneakers."  
Clean yet connected 
Even in a world filled with an overwhelming number of fast trends, one thing seems for sure, simplicity and minimalism will always be timeless. Leading with neutrals colors and clean lines are often overlooked, yet it is what makes the best outfits. 
Junior student, Jonathan Alexander Zumar, explained how his current style reflects his personal stage of self-reflection.  
"Lately my style is all about reconnecting with my true-self and the world around me," Zumar said. "Gravitating towards earth tones, I mainly take inspiration from Indigenous cultures and try to mix it up with classic pieces." 
Simplicity and minimalistic looks are all about going straight to the point. To stay clean and stylish, Minero magazine recommends leading with clean cut lines and using colors that will never go out of style such as whites, blacks, and browns. Remember at the end of the day fashion is about authenticity, no matter what you wear.  
The power of accessorizing   
Taking an outfit from simple to chic is not all about the clothing you wear, but how you accessorize!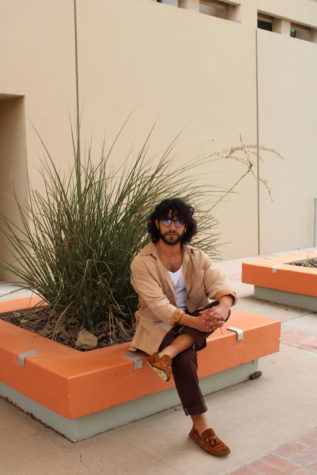 Alexia Maldonado, a fashion student and designer of Amaldeux at El Paso Community College, mentioned how even a convenient to-go outfit can be transformed by adding some unique pieces. "We don't always have that opportunity here but, I would encourage layering with accessories; Belts, Jewelry, hats, and head accessories give you that advantage of adding dimension to an outfit without going against the weather," Maldonado said.   
In recent years, we have not only seen a spike in the women's jewelry departments, but also men's; from chains, rings, and even watches, jewelry has transformed the way we accessorize.  Fellow first-year biological science student, Leo Silva, expressed his appreciation for jewelry, as it elevates his classic outfits by giving it an edgy twist.  
"Lately I'm into jewelry that feels unique," Silva said., "My favorite type of pieces at the moment are the half-and-half look," (He's talking about chains that have half pearls, half chain.) 
Minero Magazine recommends living by the logic "the more the merrier." Layering necklaces, rings, and even bracelets, no matter how simple, chunky, or colorful. Also don't be afraid to mix it up with textures, having different elements such as pearls and stones. 
For more outfit inspo from UTEP students check out our photo gallery below.