EL PASO'S LGBTQ+ YOUTH FINDS A LACK OF SAFE SPACES FOR FEMALE, NON-BINARY, AND TRANS COMMUNITY
IN THE FINAL DAYS OF PRIDE MONTH, LOCAL LGBTQ+ ICONS CELEBRATED "QUEERNESS" AND CREATED A SAFE SPACE EVENT IN EL PASO BAR SCENE WHERE THERE SEEMINGLY ARE NONE
Her pink satin gloves had been raised high above her head which made finding her in the crowd easy where in the small bar, filled with young, colorful people packed to the corners, she might have otherwise not been found. The pink theme of the outfit continued to the curls that hung over her shoulders and to the makeup that was just enough to highlight her blue eyes in the dark. 
Her name was Jax and she was dancing to the self-proclaimed "Queen of the Border" and one of the DJs for the night, Puta Kahlo's music.
"Am I masculine enough? Am I feminine enough?"  Spoke a voice that echoed through the speakers that night. 
It was Puta Kahlo's voice and beats that the women, men, and non-binary people packed the Prickly Elder, a local bar, to hear and see.
"We're just here celebrating pride, celebrating the LGBTQ+ community, celebrating non-conformity, celebrating all different genders, all different sizes, all different types of people everywhere," Jax said.
In between the patter of the rain and the emptiness of El Paso streets at 10 p.m. , there was no way to tell what was going on inside the cozy space that might have looked like your abuelita's living room. That night– that is, besides a green and white flyer with two slender figures and "FUTCH." in the upper left-hand corner, the small bar became a safe space for the LGBTQ+ and BIPOC community, one, that according to the LGBTQ+ youth community in El Paso, is of the very few that exists on the border.
FUTCH 
"Feminine butch" two words, combined together despite their contrasting meanings, defined the event on Sunday, June 27, one of the final days of LGBTQ+ Pride Month. The event was created by Swope, a young, Black, non-binary bisexual who grew up in the border community feeling like an outsider. 
Swope, who goes by their inherited last name, grew up in a Black- Caribbean, Thai household. Because of the cultures they find themselves a part of, they said, they experienced either one of two things: being hypermasculinized or hypersexualized. 
So, the word: "FUTCH", for them, made sense.
"It's basically like, the fluidity of masculine and feminine together. And for me, like that's more of my style," Swope said.
Swope, as a child, felt confused about their gender identity.
"There are times where I had people say, oh, why are you acting like that? Like, girls don't act like that," Swope said. 
They were told that they were supposed to do one thing, to look and act more like a girl, but they felt more confident and "more at home" with themselves doing what others considered to be more masculine. So, in highschool, Swope said, to fit in, they would just try to be as feminine as possible by dressing "how girls should dress." It left Swope feeling unsettled with their identity.
"The whole race thing came into perspective too for me where I was just like, am I not seen as a woman because I'm Black?" Swope said. "And then growing up, like seeing how black women are really masculinized or hyper-sexualized, like it's either or like it's never like one or the other."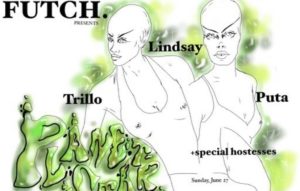 But, on that Sunday night, Swope was comfortable to be themselves, around others who shared similar feelings and experiences.
QUEER SPACES IN EL PASO 
Ultimately, Swope was concerned over the lack of feminine or non-binary led queer spaces not just nationally, but especially locally as well. 
Swope recalled a friend telling them about Monarch, a local bar and how it used to be a lesbian bar. Now, it's just another bar.
"I feel like even in the gay community, non binary community, it's very like gay centric, male centric, cis centric. So tonight was for the girls," Puta Kahlo said.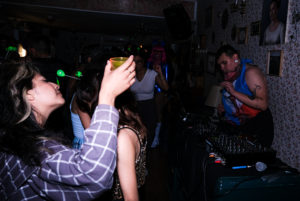 "To know that a bunch of lesbian bars are now like more gay bars… so like to hear that it's just like, why? It's just like where's the space for, like, feminine space?" Swope said. 
According to the bar's management, what separates Prickly Elder from other LGBT+ bars in El Paso, is the establishment's openness to give people a chance. 
"That's something we've always done," Sergio Rodriguez, an events and social media manager at Prickly Elder said. 
Although Prickly Elder does not outwardly label themselves as one of El Paso's  LGBTQ+ bars, Rodriguez said that they consider themselves all inclusive and the bar frequently showcases and holds events led by some of the community's LGBTQ+ leaders. Something that Lavender Thug, a local drag performer who is known locally for hosting events for art, music and drag and their performances online and at different venues said is quite uncommon in El Paso.
"A lot of us just start having our own shows at the most random, weird places that we can find because a lot of the times, these bars are catering to what the straight people want," Lavender said. 
Through performing in bars in other cities like Austin, Texas, Lavender said there was a stark contrast in how these LGBTQ+ establishments are run. 
"I go (to Austin) and most of the workers are our gay, queer, lesbian, like from the door people to the bartenders. When you come here, everyone, everyone is straight, no matter what bar you're in," Lavender said.
According to Lavender, of the five LGBTQ+ bars in El Paso, the two most popular are TOUCH and EPIC Bar & Nightclub and that, though Lavender did not specify which bar, they felt that owners had outdated practices, and experienced "borderline" offensive jokes from the owners.  
"Sure, they're cute, you can play with them, they're buff and like okay, that's great," Lavender said.  "But, am I going to relate to them on a different level where they're not going to be rude to me if I'm like, just trying to get a drink, or if I'm dressed a certain way." 
EPIC Bar & Nightclub and TOUCH Bar & Nightclub owners did not respond to requests for comment
Though PRIDE month was in June, the struggle for representation and safe spaces in El Paso continues. 
The night of June 27, just after Puta Kahlo ended their set, the remnants of the rain, and a soft sprinkle of mist highlighted the contours of Puta Kahlo's face as they spoke about their feelings after the 2021 PRIDE month.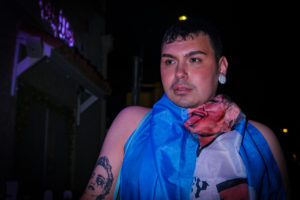 "I just feel like when we come off of things like Black History Month and PRIDE month, like we can't forget the goal at hand. Like it can't just be a month, it has to be like a constant goal in our daily lives, to uplift, people uplift queer people of color, queer artists, like, it has to be a year round thing," Puta Kahlo said.
This story is a part of series of posts that were re-uploaded after being deleted.