Jamal Streeter
In an art gallery facing the El Paso Star, the sound of drums and bass guitars reverberated off the walls as Jamal Streeter and musicians Micheal Green, Elizabeth (Liz) Pursel and Tristan Lopez were rehearsing together for no other reason but to perform music.  
At the time, they had just found out that the group had not made it past the first voting round of the University of Texas at El Paso's Minerpalooza, an annual event that the university holds for students prior to the start of the school's football season.  
The voting period began Aug. 10 and ended just four days later Aug. 14. The results weren't announced until Aug. 17. 
The group had not expected to still be interviewed when Minero Magazine had arrived at their rehearsal as the results had come out two days before, they didn't make it. 
"I think I just wanted to experience it," bass guitarist Green said. "I'm a UTEP student, an alumnus, I thought it'd be kind of cool to be in front of the faculty and be like: 'Hey, I don't just do like rehab –sciences. I'm not just in the books." 
Getting to know them 
Green is one of the two UTEP alumni that made up Jamal Streeter's musical partners. Lead guitarist Lopez also attended UTEP to study commercial music. To say music runs in their blood would be an understatement for Green or Lopez, Streeter and Pursel, a "freelance drummer" who plays not only for their group but also for De La Luna and Champagne Sugar Daddy. 
Pursel was 14 and living in Germany when she first started playing music. Her father was a military jazz trombonist.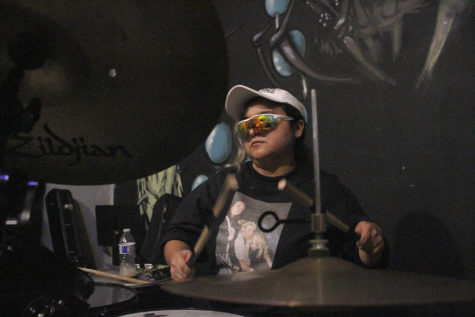 "I would see all the sick drummers he would play with and since I have such small voice, I was like 'I want something BIG," Pursel said.  
Green's dad was also in the military,; it was one of his dad's co-workers that taught Green how to play the bass. 
"He was like, 'Oh, no, you gotta bounce around.' He was like shaking the bass around," Green said laughing. "It's so you get people moving with you, you know what I mean?" 
Lopez's music career started in high school. 
"I would show up early and then I would go to the guitar room and then after school, we would all hang out," Lopez said. 
Streeter himself is a University of California, Berkeley student. He studied music business. The lead singer gathered his current bandmates after being invited to the Battle of the Bands last year. 
"I like what we do now. We've come a long way. It's interesting, even though a lot of the songs are the same. There's just so much more in depth, and as we play the songs everyone gets more comfortable," Streeter said.  
"Honestly, if you're seeing us now, it's a good thing,because we're cheap now," Streeter said. 
The band said they are still in the works of finishing an album together.  
"I think if people give each other more of a chance and everyone gets together and does great things… we could all be doing things together so that the whole town grows," Lopez said. 
Stay up to date with the group's funky and vibrant beats by following Streeter @jamalstreeter.