Rescue Runners walk the Mutt-Mile for pet adoption
El Paso Animal Services is navigating critical capacity, but a group of volunteers donate their Sunday mornings to convene under Spur 601 and walk dogs with the Rescue Runners. All in order to bring relief to these animals that spend a majority of their time packed together, with numbers almost three-times what the shelter was built to house.
Rescue Runners is meant to enrich dogs, helps release energy and gets them acclimated to being in a more social environment, around other dogs and people.
The weekly event takes place Sunday mornings 8 a.m.-10 a.m.
Eileene Pina, registered volunteer with El Paso Animal Services, stressed that while the program does help to relieve the stress that some dogs may feel, shelters are meant to be temporary until they find their forever home.
"It shouldn't be where they're living, for like a year or more," Pina said.
Pina cites the negative economic impact on families caused by COVID and a decline in the number of families willing to foster or adopt the increased number of dogs housed at the animal shelter.
The shelter is meant to hold 250 to 300 dogs, but numbers sit around 800 to 900, depending on the day, according to Pina's recollection.
The program allows for volunteers to walk adoptable dogs, but many volunteers that donate time to the program already have pets at home, making it difficult to adopt another animal.
But for those looking to adopt a new animal, breed, age and gender should not be determining factors.
Prospective adopters are encouraged to meet with staff and volunteers who spend time with the animals and are familiar with their characteristics and personalities.
Data obtained through the Animal Services website shows that on their latest posted count from May, the number of dogs housed in their shelter stood at 763, with 1093 being fostered.
When brought into the shelter, an image is taken where dogs can look scared or confused, leading to a false perception of the animals. Getting the dogs out of their kennels helps volunteers see their true nature, according to Pina. 
"They look like they're smiling," Pina said, "their ears change, their facial expressions change."
As a solution to the capacity problem in local shelters, Pina explains that educating the public about spay and neuter programs would help to slow the growth in the number of animals without homes.
Pina got the idea for the Rescue Runners program while walking past the dogs housed in kennels. 
The program began at a smaller local shelter in 2014, but moved to El Paso Animal Services in August of 2021. The program is currently run by an all-volunteer staff that provides leashes for the dogs, water stops along the path and treats.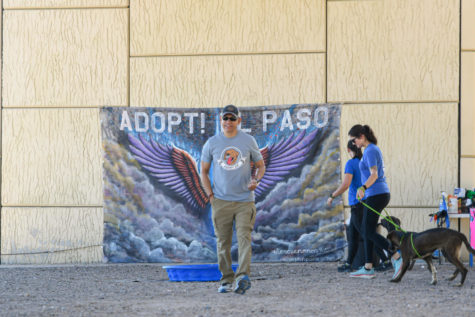 "Well, if I can walk two or three an hour, and my friend can walk two or three an hour," Pina said, "that's how we kind of like, got it started for volunteers."
Normally, volunteers must register with Animal Services, take part in an orientation process and complete a number of hours before being able to interact with the animals. But that is not necessary to participate in the event.
"I did like the scooping work, I did the laundry, I did all that kind of stuff," Pina said. "So that they will trust me enough to open up the program to the public."
However, Rescue Runners volunteers are required to read the posted rules and sign a consent and release from liability form.
Pina explains that this process makes it easier on the animals and volunteers because it allows attendees to simply walk up to the kennels, grab a dog and begin their walk on what is affectionately called the Mutt Mile.
On a day with good turnout, Rescue Runners can see between 60 to 70 volunteers, which includes families, couples, and groups ranging from UTEP programs and organizations, local businesses and the Sargent Major's Academy at Fort Bliss.
The program's next event will be the Mutt-A-Thon set to take place 8 a.m. -2 p.m. Saturday, Aug.27.
The Mutt-A-Thon offers two-hour time slots for volunteers to sign up and walk dogs. 
Volunteers can expect raffle prizes, music and food trucks, "Go Home" bags for adopters and refreshments for those who choose to volunteer, according to the Rescue Runners' event page.
For more information about Rescue Runners visit https://www.rescuerunners.org/. You can also find Rescue Runners on Instagram @rescuerunners915