Sun City Kitty
The Grand Opening of a Local Cat Themed Cafe
Sun City Kitty opened its doors for business on May 1, 2022, kicking off their grand opening at the Sunland Park Mall. 
The cafe was projected to see 3000 customers on opening day, but quickly surpassed that within a couple of hours. A crowd of eager cat-lovers surrounded the large opening of the cafe's entrance waiting for a chance to meet the Sun City kitties and sip on some coffee.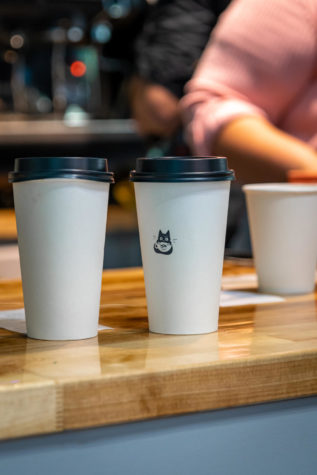 When the Sun City Kitty staff first announced their opening, they received before they had a profile picture, Co-Owner Megan Oslund said. 
They were also surprised by the amount of applications that came pouring in. 
Oslund said the store received 200 applications once they announced their opening day.
"It was a lot to go through," Oslund said. "We were really upset to have to disappoint so many people."
Currently, there are only five employees working at Sun City Kitty. 
Sun City Kitty is not hiring at the moment, but may start taking applications in the summer if business picks up. The age requirement is at least 18 years old.
Rather than filling out an application in-store, Sun City Kitty accepts resumés that can be sent to their email at [email protected]. 
The starting pay is $10 plus tips and 2% profit sharing bonus every month.
This newly opened cat-themed cafe is located on the second floor of the mall, next to Hot Topic. Though the cafe offers a variety of menu options, only coffee was available for purchase on opening day. 
"With the crowds, we sat down and decided the quickest things that we could make and that our employees know how to make," Oslund said. 
However, as business progresses and more supplies come in, Sun City Kitty plans to expand the menu to tea, lemonade, and pre-packaged pastries from local bakers. 
Only a week after opening day, Sun City Kitty has expanded their menu to "cherry and watermelon lemonade, cappuccinos, as well as vanilla and caramel options for all of the coffee drinks."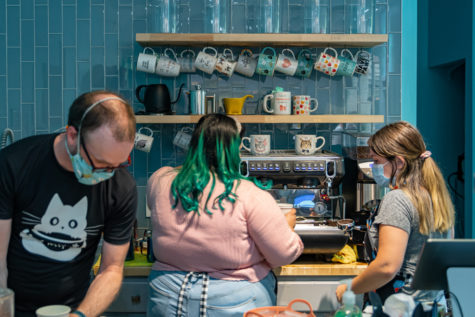 They also introduced "herbal teas and London Fogs," Oslund said. 
Sun City Kitty also has merchandise ranging from candles to shirts to mugs and more. 
"Merchandise is selling great," Oslund said. "We have already had to order restock for most of our items, which we appreciate so much."
Given the fact that Oslund currently owns another store within the Sunland Park Mall, 'The Makers Collaborative LLC,' her relationship with mall management is how Sun City Kitty got its spot. 
When mall management approached Oslund, she did not have an idea in mind at the time.
It was not until an employee of hers pitched the idea of a cat-themed cafe, which coincidentally, Oslund said she also heard from one of the other owners soon after. 
In just six months, the store finally opened.
 "We all kinda sat there and went, 'Oh my gosh this is happening,' and now we're here," Oslund said.
Sun City Kitty is located across from the food court. 
"The luxury of being inside of the mall makes for really good impulse visits," Oslund said.
Sun City Kitty partnered with El Paso Animal Services and found no difficulty receiving cats since it is a no-kill shelter, however it had been a long process to have them all spayed and neutered.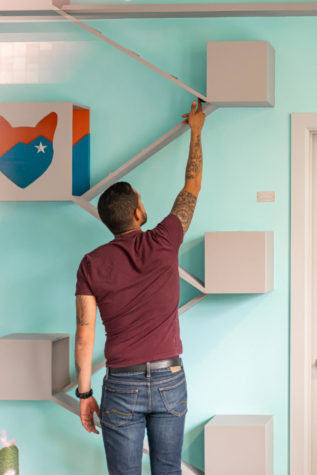 "There's only so many surgical spots per day," Oslund said.
Aside from other local coffee shops, customers are given the option to book an appointment on the Sun City Kitty website for some play time with the cats. 
"We are looking to offer people an experience to play with the cats that they can't get anywhere else," Oslund said. 
Prices start out at $7 for 30 minutes, and $10 for an hour. 
If it is a slow enough day, "walk-ins are welcome," Oslund said.
Students are also welcome to study at Sun City Kitty. In fact, a table was set up right outside the cat room with the "assumption" that students would bring their laptops, and be surrounded by "kitties" while doing their homework or studying. 
"We have WiFi available for students," Oslund said. 
Oslund shared with Minero Magazine that Sun City Kitty is thankful to El Paso for the amount of support they have received upon opening. 
"This isn't our cat cafe, this is El Paso's cat cafe," Oslund said. "The only reason we're here is because the city has come together and made this happen."