Nostalgia and new generations
What nostalgia and its presence mean in social media, trends, music and film
January 17, 2023
Whether you love to rewatch your favorite shows at a certain season, re-read your favorite book over and over, or participate in a TikTok trend that reconnects and ignites your inner child; there is no denying the presence of nostalgia as a staple in our generation.
With the transition to normalcy from a pandemic world, our generation has found themselves at a crossroads: connecting to the real world and learning to become adults. Raising the question: what is the connection between our society and nostalgia that makes it more prevalent than ever?
The word nostalgia has roots in the Greek language: Nostos, meaning "return" and Algos, meaning "suffering." But it has made me question whether Gen-Z's definition of the word has transformed, relating nostalgia to a broader concept called "mental transportation."
"Mental transportation happens when we are trying to place ourselves in a narrative of a certain time wanting to even understand experiences of those who are close to you, such as your parents," said Assistant Psychology Professor of the University of Manitoba and UTEP alumni, Nicholas D. Evans, Ph.D.
Evans is one of the authors of the study published on August 12, 2020, "Mental Transportation Meditates Nostalgia's Psychological Benefits." His team researched the bridge between the use of nostalgia and different generations.
They theorized that actions rooted in nostalgia are a part of a larger effort to connect to our inner selves and to those around us. What they found was a connection between nostalgia and feelings of self-discovery and social connectiveness.
"Whether it is about listening about a time in the '90s, or even about what your parents felt when they were watching Friends when it was on TV, it all enhances mental transportation," Evans said. "I theorize it is mainly about connecting to others by trying to relive their past experience with them."
The connection that Evans is talking about involves two different types of nostalgia: autobiographical nostalgia and historical nostalgia.
Autobiographical nostalgia roots from memory and personal past experiences.
Historical nostalgia comes from trying to place yourself in an experience from the past that never personally happened, thus developing a form of mental transportation.
According to the study, nostalgic engagement enhances mental transportation which brings feelings of social connectedness such as optimism, inspiration and self-continuity.
In Gen-Z, gushing about different eras has become a common conversation starter and helps us also connect to those we love or even strangers. Having factors such as social media, music, fashion trends, and films helps us enhance those connections.
Let me take us back down memory lane to triggering times – the 2010s. It was the rise of Photoshop and the time for crisp definition, highly saturated, and white-bordered Instagram feeds. It was truly the phenomenon for starting the mold to obtain the perfect life in picture form.
Triggering, I know.
Nowadays, that tide has shifted from the large following of influencers such as Emma Chamberlain and Orion Carlotto, who help bring normalcy back in style. Now you may be asking yourself, how is this related to nostalgia?
Well, according to Evans' research theory, each attempt at constructing your aesthetically pleasing "photo dump," is your conscious trying to feel somewhat relatable. Feeds one straying away from heavy edits, filters, Photoshop, and featuring your most recent mental breakdown. It is a race of who can capture the "realest" and most down to earth versions of themselves and get the most views. It is a movement that brings us back to the initial stages of the app itself.
Growing fashion influencer, Andrea Calle Eyssautier, 24, from our twin-city Ciudad Juárez has not only found an audience that connects to her sense of fashion but has also accomplished her following by reconnecting to her Tumblr beginnings.
"Whenever I was part of the Tumblr scene, I remember creating my posts on the "sad girl" core, as it connected with my personality in that period," Eyssautier said.
Eyssautier began building her following during the height of the COVID-19 pandemic.
"I wanted to create content that not only seemed modern, but also reflected the part of me that used to have fun during the age when I first connected with social media," Eyssautier said.
Having social media as a hobby was not foreign to Eyssautier, as she had experienced somewhat of a following in her Tumblr days. It only felt natural to her to try and reconnect with that past self, while making content that transported her audience into the mind of Eyssautier's younger self.
"I have always loved fashion and had incorporated that aspect of myself in my social media accounts," Eyssautier said. "Even though there is nothing wrong with following trends, I think what has changed, not just in my content, but, in other creators is trying to reflect the essence of who you are as person within that content."
Eyssautier believes that understanding what makes one different is what makes you successful in the fast-growing competition that is social media.
"I want people to be inspired by my content and to never be afraid to be themselves, because it is what makes you stand out at the end of the day," Eyssautier said.
Not only do we as an audience encounter forms of nostalgia through social media posts, but with the help of influencers, the resurgence of past fashion trends has found a home in the hearts of Gen-Z.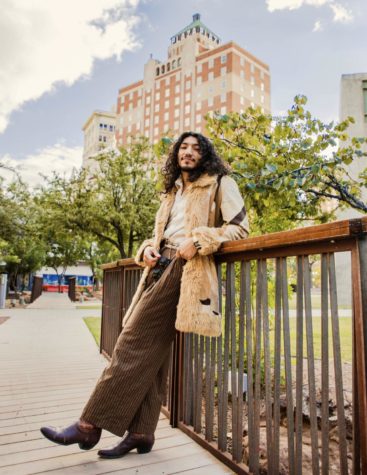 From the chunky shoes comeback and low-rise jeans, creators and celebrities have contributed to the rapid pace of trends in 2022. Having their impact shows how prevalent fashion is within our generations' culture and normalizing the thrifting culture.
Engineering leadership student at the University of Texas at El Paso, 21-year-old David Lepe has found his fashion essence within the racks of thrifts stores. Utilizing his past skater look and his musical influences, Lepe has created transporting looks that are fueled with nostalgia thanks to his passion for vintage clothing.
"Right now, I take influence from artists such as David Bowie and the era of the '70s to create my looks," Lepe said. "But since I do skate a lot, even on campus, I sometimes incorporate pieces that make it easy for me to get around in my skateboard at any moment."
Lepe emphasized that his style is always evolving, but occasionally, he finds himself trying to find a way to incorporate his old middle-school and high school wardrobe into his new outfits.
"Sometimes I feel like I go back to a different era in my life whenever I throw my old wardrobe into the mix," Lepe said. "I tend to keep them usually whenever I have a feeling they will come back in style or are classic basic pieces that will fit me forever."
Besides his personal nostalgia, Lepe also takes inspiration from generational nostalgia.
"My older brother was someone that inspired my style," Lepe said. "Now, I think the ones that mostly encourage me to dress up and even help me pick out clothes now are my younger sisters."
Lepe mentioned his younger sisters are also learning to love thrifting and experiment with clothing because of him. He hopes not to only keep inspiring them, but others out there to dress however they like and be authentic to oneself.
As our generation grows, so does the concept of trying to connect to our past selves or even others that have built us. Whether it is from the newest adaptation of Elton John's music, "Cold Heart," featuring Dua Lipa, which stems from his famous hit Rocket man, or singing at the top of your lungs "Devuélveme A Mi Chica" by Hombres G at the latest party. Musicians that were considered our parents favorites have found a new solid fandom due to the emotional attachment it brings, making us feel like we are transported onto another era.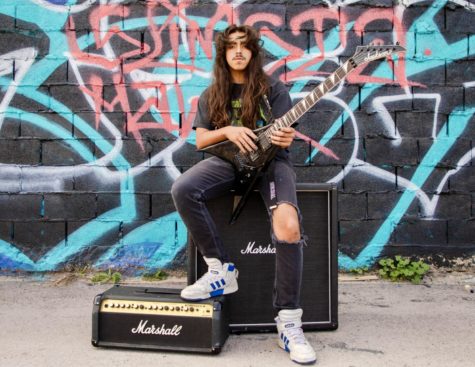 Elijiah Mars is a 20-year-old guitarist and singer of local metal band, Toxic Priest. He explained how his band built their persona by taking inspiration from the '80s metal scene and utilizes it to transport their audience into the times of thrash metal and Metallica.
"We are trying to bring an element of aesthetic and nostalgia in how we are perceived," Mars said. "For me it is all about the performance we want to bring to our audience, from us wearing leather jackets and having the rocker long hair."
Mars also mentioned how not only nostalgia from past American metal bands have helped finding their style of music, but his band wanted to bring in sounds that influenced their upbringing outside of the metal.
"I grew up with music from Pedro Infante, Vicente 'Chente' Fernandez, and even Michael Jackson," Mars said. "I want to have a small aspect of what I grew up with in my music."
Beyond music, mental transportation can also occur through the visual media we consume like films.
With thrillers, alien invasions, and biopics, the film industry has begun to reclaim cult classics like the Addams family and staple movies from older generations to better fit the perspective of the newest generation. This means reimagining a world where Wednesday Addams could have social media or the live action Winx Fairies talking about their favorite YouTubers.
One of the most recent tributes that went straight to the top due to its cast and plot was the movie "Elvis." Utilizing the romanticization of the era and impressive visuals. Its influence became elevated through platforms such as TikTok. "Elvis" reached an exponential growth of 1.6 billion videos on videos related to the title on TikTok, and according to Rotten Tomatoes it grossed a total of $150.7 million in the box office in the United States only.
Jett Loe, film critic and long-time podcaster of "Film Talk" during the '90s and 2000s, said social media has been the largest contributor to our generation's fascination over biopics and nostalgic fueled plot lines.
"I would imagine, to a younger audience, trying to relate to an easier time must be so carefree," Loe said. "For example, in the show Stranger Things, aside from the supernatural aspects of it, the depiction of how the kids and the people used to live was accurate. It only makes sense for them to try and transport to a time where they did not have to worry about such huge issues like global warming or the pandemic."
He said mental transportation may be what is gravitating the younger generations to indulge in things such as biopics. Loe also believes in the impact major film companies have had when it comes to making movies, thus the creation of sequels and remakes.
"In recent years, film companies such as Disney have taken control over many franchises such as Marvel and Fox," Loe said. "Due to the expense of making films, these companies have limited their chances of losing money. Instead of taking risks, they take the route where it is guaranteed they will make money."
Loe said these types of decisions also prompt sequels and eventually remakes because the companies know what has already made them money.
Whether it is in a social media platform, your favorite classic film, or the newfound love for loafers, nostalgia has been present since the beginning of time. Our psychology not only connects our generation to past generations, to future ones as well. We are in a time where our priorities are to find what comforts us to honor the past or create new memories.
EN BREVE

Por Yoali Rodriguez

Con la transición del mundo de la pandemia, nuestra generación se ha encontrado en un camino confuso: tratar de conectar con un nuevo mundo, mientras aprendemos a ser adultos. Que nos deja con la pregunta, ¿qué conecta nuestra generación y la nostalgia?

La palabra nostalgia casi siempre es asociada a temas de extrañar el pasado y lo que pudo haber sido si hubieran cambios. Pero nuestra generación ha transformado ese pensamiento, utilizando su significado para atarlo a una experiencia más grande llamada "transportación mental".

"Tener la experiencia de transportación mental sucede cuando posicionamos nuestra persona en un pasado específico para tratar de entender una experiencia de alguien cercano, como nuestros propios padres", dijo el Dr. Nicholas D. Evans, un profesor asistente de Psicología de la Universidad de Minetoba y ex-alumno de la Universidad de Texas en El Paso.

Evans fue uno de los autores del estudio, "Mental transportation mediates nostalgia's psychological benefits," en ingles, que fue publicado en agosto, 2020. Su estudio se enfocó en entender la conexión de la nostalgia y los sentimientos positivos que obtiene. Teorizando que acciones conectadas a la nostalgia son parte de un mayor esfuerzo a encontrar un lazo entre nuestro yo interior y la gente que nos rodea. Encontrando una relación entre nostalgia y tener sentimientos de autodescubrimiento y conexión social.

En la nueva era de influencers tratando de encontrar una conexión social y un autodescribiendo es un hecho. Teniendo grandes influencers como Emma Chamberlain y Orion Carlotto, que estan ayudando a traer la estética casual de nuevo de moda y de vuelta a Instagram.

Andrea Calle Eyssautier, 24, influencer de Ciudad Juárez ha aprendido el significado de mezclar la estética casual y elementos de nostalgia. Capturando sus momentos más reales que expresan su amor por la moda, obteniendo inspiración de su pasado en Tumblr.

"Aunque sea nueva, en cuanto viene a mi crecimiento en Instagram, he estado relacionado en las redes sociales anónimamente desde la primaria cuando tenía Tumblr", dijo Eyssautier. "Empezando con la temática de fotografiá y en la secundaria me enfoque más en la moda con publicaciones que obtenían el 'sad girl core' en esa era".

Eyssautier empezó a tener más seguidores en su cuenta de Instagram, @sadpinata, durante la pandemia y ahora tiene más de 13 mil seguidores. Dándose cuenta de que sin importar que tipo de contenido haces, siempre tienes que reflejar tu identidad propia. Teniendo su estilo reflejar la época que ella vivió durante sus años utilizando Tumblr.

"Cuando se trata de seguir tendencias, no estoy peleada con esa idea", dijo Eyssautier. "Pero lo fundamental que he notado no, no más en mí, pero en otras creadoras, es que se hace contenido se nota la esencia de donde vienes".

Entendiendo la competencia que viene con crecer en las redes sociales, Eyssautier cree que entendiendo lo que hace a uno diferente es la clave a crear una comunidad en cualquier plataforma.

"Quiero que la gente se sienta inspirada a ser ellos mismos con mi contenido", dijo Eyssautier. "Saber que te hace diferente es lo que nos hace especial".

Como audiencia, nosotros nos encontramos con diferentes esencias de nostalgia entre las redes sociales. Teniendo gente que ayudan a ejercer esa cultura en cada plataforma, Gen-Z ha creado nuevos espacios para continuo éxito de nuestras cosas favoritas que nos dejan sentirnos en casa.