Jordan Nieto
Nieto began to post on TikTok three years ago to showcase his love for Funko Pops. Now, Nieto has more than 45K TikTok followers, with over 1M likes.
September 7, 2022
At 20 years old, El Pasoan Jordan Nieto looked forward to going to Hot Topic every Sunday with his family. At the store, he remembered gazing at the large wall of tiny figurines with big, square heads styled as some of his favorite movies, television shows or comic book characters.    
"I would tell my mom 'I want these black-eye things,' I didn't know what they were called," Nieto said.  
Nonetheless, Nieto would often ask his mother for one –every time.  The small, 3.75-inch caricatures with no pupils or mouths are a part of the Funko toy company's "Pops" collection, Nieto would later realize.  
Funko "Pops" were first created in 1998 by Mike Becker. Originally, it started out "as a small project to bring back various low-tech, nostalgia-themed toys in the high-tech world of today." The first bobble headed Funko "Pop" to be created was "Big Boy," a burger-restaurant advertising icon. Then, in 2005, Funko introduced Brian Mariotti as president.  
Since Mariotti's appointment, Funko "Pops" have acquired many different licenses to sell Pop's inspired by characters from Marvel, anime, bands and movies.  
Rare Funko Pops can sell for upwards of $1,000, but on average, Funko Pops retail for $12.  
Nieto's first Funko "Pop" was the DC comic book character, "The Flash," a gift from his mother for Christmas because he was "obsessed" with the show at the time.   
"That one is my most treasured Pop ever," Nieto said.   
 Then began his passion for the small figures. 
"We support all of our kids with whatever they want to do," his mom, Yvanna Nieto, said. "If that's what he wants, I back him up 100 percent."  
Nieto's family shared that he started bringing home one Pop figure a week, and before they knew it, it became two.  
"It became an addiction," Nieto said.  
Nieto described his past self as a "school kid with no money," but once he got a job, all his money went towards more Funko Pops, he said.  
The world record for most Funko Pops collected is 7,095 by David Mebane from Knoxville, Tennessee. He is the reigning champion for 2021.  
Currently, Nieto has more than 250 Funko Pops in his collection.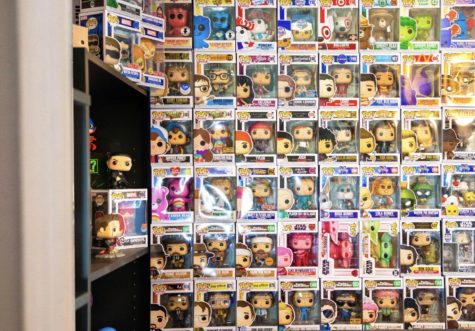 "I really didn't know how big his collection was until I went into his room," his dad, David Nieto, said.  
Now that Jordan Nieto's collection has grown into the 200s, he no longer abides by the unwritten "don't take them out of the box" rule. 
Nieto currently stacks his Funko Pops in his room, stacking them from the floor to the ceiling. He is looking to expand since his collection is continuing to grow, and already takes up so much of his room. He recently began using the "brick method" to stack his Funko Pops for better stability, after nearly his entire collection collapsed. 
The brick method, Nieto explained, involves putting the Pop figures he does not mind getting damaged at the bottom. This layer is the foundation, composed of an even number, and therefore holding the most weight. His stack continues, placing the next layer of Pop figures over the cracks, so that one is being held up evenly by two.   
His goal is to transition to all shelves and a desk to better hold his collection.   
"A couple of months ago, I was very strict about the boxes having to be perfect," Nieto said.   
He began taking certain ones that he felt looked better outside of their box and placing them on his shelf but the ones with the "really cool" art design, he said, stay in their original boxes.  
Nieto is peculiar about his Funko Pops, and asks that no one touch them, but if they do, to put them back how they were.  
"I go in there and touch them anyways," said his brother, Jacob Nieto. "Usually when I remove one, he's like 'Bro, put that back and make sure it's in place correctly.' He had OCD with his Funko Pops."  
Nieto shared that his favorite Funko Pop from his entire collection is the black light Dr. Strange version.   
"I was so hype when I got this one," Nieto said. "These are rare."  
Nieto likes this Pop figure because they have glow paint on them, that work with an ultraviolet (UV) light.
In addition, Nieto is a Dr. Strange fan in general.  Nieto said that his least favorite Funko pop is the robotic version of Dr. Strange called "Marvel Mech."  
"I don't even have this one in my collection," Nieto said. "It's on every Walmart shelf, but no one seems to buy it."  
 Pop'ing off on TikTok 
As of now, Nieto's collection is worth approximately $5,000, he said.   
These collectors' items are expected to increase in value in years to come.  
While there is no rule that says collectibles must be kept in their boxes to increase value, it is still encouraged to keep the box in perfect condition.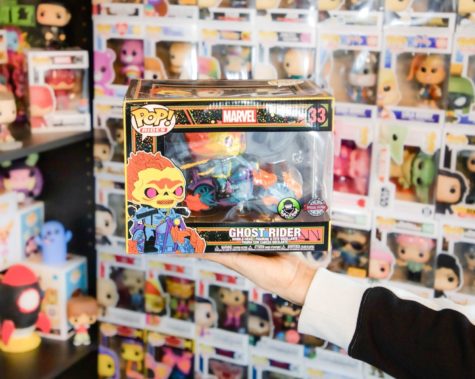 Nieto does not plan to sell his Funko Pops but rather plans to pass them down when he has kids of his own in the future.   
All his life, Nieto has been a fan of toys, and loved seeing his favorite characters as Funko Pops. He is drawn to the details and the colors of each Pop figure, he said.  
"It's a little boost of happiness every time I buy them," Nieto said. "It's cool to have a collection and see what's worth what, what's fun, what's rare."  
Even though Nieto had been collecting for a while, he did not do so with such passion until he joined a Facebook page called Funko Collectors Anonymous. He admired everyone's collections, and wanted to be like them.    
Since he began collecting Funko Pops, he created an account on TikTok where he makes videos, exploring the world of Funko Pop collecting and all the while, recording the growth of his own collection. But his social media career did not start there.  
Originally, Nieto uploaded videos to YouTube. His YouTube channel, named "jordantherookie," resides at 334 subscribers and 148 videos as of March 2022.   
"I would get no views except my family and a couple of friends," Nieto said of his YouTube channel.   
So, he shifted to TikTok.  When Nieto began to express his creativity more on his TikTok account and began to incorporate his love for Funko Pop and growing his collection, his videos began to go viral, and he started receiving thousands of views.  
"Just one video is all it took," Nieto said.   
Nieto's TikTok account, @jordantherookie, consists of videos where he reveals the newest additions to his Funko Pop collection.  
As of March 2022, Nieto had 43.8K TikTok followers, with 1.3M likes.  
"It's all we do now when we go out," Paola Carrasco, Nieto's girlfriend said. "Every time we go out, he's like 'we have to go to this store to look for this one.'"  
Nieto's parents believe that this Funko Pop collection is a good investment and will financially set him up for life.   
"Eventually, down the line those Pops will go up," David Nieto said. "It's like collecting baseball cards."  
"I do think that maybe he will be one of those TikTok stars that they pay him a big amount of money," Yvanna Nieto said. "I always tell him, 'You're gonna be big. I know it. You're gonna grow and buy a little house behind your house for me, and we're gonna be set.'"  
Nieto's brother said he was surprised and described his brother's success and his brother's ability to reach such a wide audience as "crazy." 
"There was one time where he was going live on TikTok, and there was a guy from England and it was like 4 o'clock in the morning for him and he was still watching Jordan talk about his Funko Pops," Nieto's brother said. "There's people all around the world that watch his videos." 
 Now, Jordan Nieto uses his success on TikTok to promote his YouTube channel.  
"When people click on my TikTok, they click on my YouTube," Nieto said. "I've been getting a lot more followers."  
Nieto currently works as a substitute teacher for El Paso's Ysleta Independent School District, and often gets recognized by high-school students.   
"Kids comment on my posts 'Hey, I started collecting and making videos because of you,'" Nieto said. "And every time someone says that I make sure to watch all of their videos."   
Being told that someone looks forward to his latest video or just seeing the number of views he gets makes him feel proud of his work on the video-sharing app.  
"It's always so nerve-wracking but surreal," Nieto said. "It's nice to know that I can inspire some kids to do what they love." 
The Process 
Nieto said that his overactive imagination is the key to making his TikToks. The videos, which usually remain under 30 seconds, feature fast cuts and text and images that pop onto the screen unexpectedly. He often films videos while out in public if he sees Funko Pops and his trademark? A closing joke.  
"The hard part is making the joke," Nieto said. "I think of so many jokes. I film them, and whichever one I can watch over and over without getting bored is the one I put in."  
It takes Nieto an hour to film a 30-second video, and about an hour to edit it together.   
Nieto shared that he does sometimes feels pressured to upload videos. He balances this with his multiple jobs and his personal life.  
"I get burnt out," Nieto said. "I have to come to terms with taking a break every now and then."  
But Nieto fears that if he slows down, he will lose relevance.  Instead, he tries to buy at least four Funko Pops a week while confessing that his hobby is expensive.  
"I try not to buy everything I see," Nieto said. "I only get the things that I actually want and can actually fit in my collection."  
When shopping online for Funko Pops, Jordan Nieto uses the Poppin' Off Toys website, poppinofftoys.com . When in-person shopping, he buys his Funko Pops from Box Lunch, Hot Topic, and DOC'S Unique Collectibles.  
"I love going in there," Nieto said of Hot Topic stores. "They're always nice and super welcoming."  
One day, Nieto wants to create a Funko Pop of himself. Although the option to create a Pop look-alike is already made available on the website, Nieto wants to do it in person, in Hollywood.  
"I really want to go," Nieto said. "You get to put your own box and your own name."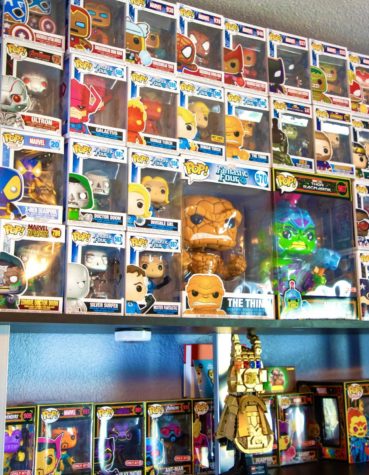 It is on his bucket list to travel sometime in 2022 and experience it for himself. And it might happen sooner than expected, Nieto thinks. 
Funko Pop Myth  
There is an ongoing theory that a mini Funko Pop is instilled in the heads of some figures. While some do not believe it is true, there are videos online where people cut Pop figures open and discover a little Funko Pop.   
Nieto plans to one day explore this theory but is looking for the right one to ruin.  
Within the Funko Pop fandom, there is a population who takes the figures out of the box, and those who prefer to leave it untouched. As a content creator, Nieto shares that sometimes it can be challenging to make certain videos, because he does not want to upset anyone.   
"People get really mad if you crumble the box," Nieto said. "I have to debate which one to sacrifice."  
Although he has always wondered, Nieto does not believe this theory.  
"I have some that are outside the box, and I shake them," Nieto said. "I don't believe that there's anything in there."  
In the early months of 2022, Nieto noticed an increase in followers and views. In turn, Funko Pop vendors started to personally reach out to him. Nieto is currently affiliated with "Poppin' Off Toys," and has his own discount code where he receives 5 percent commission for every Funko Pop sold using his discount. Nieto had also started to do Pop giveaways on his TikTok account which resulted in around 50,000 views and 2,000 entries in February alone, he said. 
The winner from his last giveaway was from California and received a T-shirt as well as a Pop figure. In addition, he followed the winner back on TikTok.  
He said that though the giveaways can be hard work, they motivate Nieto to one day have a charity of his own where he plans to give out toys to kids.  
A CONTINUACIÓN, EN BREVE
Por Brandy Ruiz
A sus 20 años, Jordan Nieto esperaba ir a Hot Topic todos los domingos con su familia. En la tienda, recordó haber visto la gran pared de pequeñas estatuillas con cebezas grandes y cuadradas con el estilo de algunas de sus películas, programas de televisión o personajes de cómics favoritos.
"Le decía a mi madre 'Quiero estas cosas de ojos negros,' no sabía cómo se llamaban," dijo Nieto.
Sin embargo, Nieto a menudo le pedía una a su madre, cada vez. Las pequeñas caricaturas de 3.75 pulgadas sin pupilas ni bocas son parte de la colección "Pops" de la compañía de juguetes Funko. Actualmente, la colección de Jordan Nieto ha crecido de tal manera que ya tiene más de 200 figuras.
"Realmente no sabía cuán grande era su colección hasta que entré a su habitación," dijo su padre, David Nieto.
Ahora, la colección de Jordan Nieto cuenta con más de 200 figuras. Desde que comenzó a coleccionar Funko Pops, creó una cuenta en TikTok donde hace videos, explorando el mundo del coleccionismo de Funko Pop y todo el tiempo, registrando el crecimiento de su propia colección.
A Marzo de 2022, Nieto tenía 43.8K seguidores en TikTok, con 1.3M de me gusta.