Sultanes del Yonke
August 19, 2022
"I've seen grown women fall.  I mean, after dancing. They don't just faint from the sight (of us)," Mario Otero, a member of Sultanes del Yonke said.   
"Not yet." 
"Yeah, not yet," Otero said.  
Otero and fellow Sultanes member Miguel Delgado were discussing what they have seen from their audiences performing together as Sultanes de Yonke on the top floor of a parking garage at UTEP. They have big hopes for their band's future and they're already seeing their impact, they said.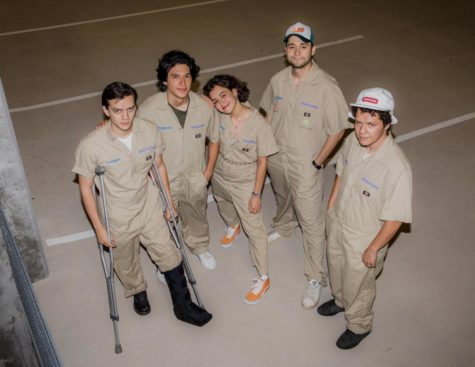 The band has made it past the first round of the Battle of the Bands and is expected to perform on Aug. 22 at Texas Western Gold Rush. 
"I'm excited for people to just be like, 'Oh, wow, like, I'm on campus and I get to dance?'," Otero said.  
The Sultanes members have been performing for about three years, but the five members, Otero, Delgado, Natalia Sanchez, Toño Ramos, and Alec Miramontes have been friends for longer. In fact, some of their bonds are deeper, like Otero and Delgado's who are cousins. The band's energy is contagious. 
"I don't know there's something about the ambience that we (create) that it just makes people for some reason does go crazy," Sanchez said. "Like, sometimes it's a mosh pit." 
The band unanimously agreed that, though they would like to win the competition, ultimately, they just want to make people dance.  
"Our sound belongs to– is made for everyone," Sanchez said. "We were hoping to reach like so many different audiences, from teens to adults… Todos. Todos lo que hay aqui en UTEP."