Acid Wave
August 18, 2022
"Dream-pop," Acid Wave member Jet Gil-Robert said.  
It is how she would describe her group, Acid Wave's music. The band is composed of Gil-Robert on the keyboards, Eva Vasquez on guitar, Isanette Olivarez on bass and vocals, and drummers Audrey Villalobos and Mary Moreck. These ladies came together to do something that they say they had never really seen in the El Paso music scene before: form an all-girl band. 
"We've already seen enough boy bands," Vasquez said. "We just want more women in music."  
Vasquez a student at the University of Texas at El Paso and former Airmen, had played music her entire life. She had even performed with a familiar local artist who had participated in last year's Battle of the Bands: Tony Jupiter. 
It was in 2018 that she decided to post on social media, inquiring about who would be willing to join her girl group. Olivarez and Vasquez saw and immediately said "yes, why not?"  
The three communicated and eventually, members Gil-Robert and Moreck joined in as well.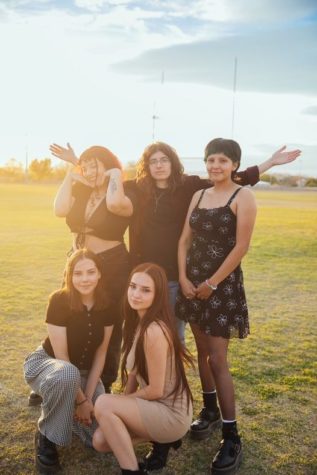 The women-group all have experience in music ranging from school band participation to growing up in a family of musicians. They say that they are inspired by each other. 
"The El Paso music scene is very male dominated," Olivarez said. "Girls DM us and talk about how, you know, we're inspiring them to come into the music scene, just because that's not originally what they're used to seeing here." 
Acid Wave has made it past the first round of Battle of the Bands and are the only all-girl group expected to play at the Texas Western Gold Rush on Aug. 22 at UTEP.  
They say, the fact that they are an all-female band should not be the only reason to watch the performances at Texas Western Gold Rush. 
"I didn't know much about the local music scene, local shows, or the local bands," Gil-Robert said. "So I feel like it would also be a good experience for the community to see who's playing in their city."