Melancholy 10
August 17, 2022
"I can't describe my music, its influenced by a lot of things or it's influenced by a lot of other music," Che Ulibarri, the leader of Melancholy 10, a band participating in the Battle of the Bands said.  
The band is formed by Ulibarri, Julian Saucedo, Juan Lara, Matthew Palacios, Luis, Christophé, and Bert Villegas from east, central and west El Paso. Like his group's music, the seven members represent a mix of El Paso's many identities that found their common ground in music.  
"We've always kind of felt like we don't fit in the scene that we usually play," Ulibarri said. "Because that's more like in the surf, rock, pop, punk, punk, all that stuff. And while we are influenced by that, we're more like– my drummer is like an amazing jazz drummer, and we all have a background in classical and jazz music… So it's like all that like meshing."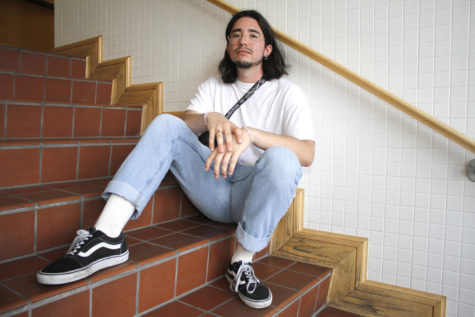 Ulibarri had been making music under the name "Melancholy 10" for about 3 years now. All the music that is listed under Melancholy 10 on Spotify was created, sung and played by Ulibarri. Last summer, an opportunity to audition for NPR's Tiny Desk led Ulibarri to search for more members for Melancholy 10.  
"They were down to try that and we kind of never stopped. Now we play shows around El Paso," Ulibarri said.  
In the next few weeks, Ulibarri and Melancholy 10 will be performing at the Texas Western Gold Rush and quite possibly, Minerpalooza. 
"(The band are) not (nervous) because they're amazing, but I'm definitely really nervous, but in a good way," Ulibarri said. "I'm excited. It's the biggest crowd we're gonna play for yet." 
Ulibarri said he really wants the community to support not just their band, but the other bands participating as well—beyond the Battle of the Bands. 
"I love the scene here. I think it's very underrated," Ulibarri said. "You go to a show and you get art vendors, local art vendors, local bands are like the most raw way to consume local art, or just like El Paso (culture), you know? So, I think if we can get more people to start going to those, we could become a city like Austin or bigger cities with thriving music scenes, because right now it's kind of an Ember…"