Basillio Gonzalez 
July 18, 2022
For nearly 100 years, Basillio Gonzalez's family has been involved in the business of photography. Whether it was taking photos, running a photography studio in 1914 like his grandfather, Basilio M. Gonzalez used to do on El Paso Street or restoring photos like Gonzalez does now, he was always involved.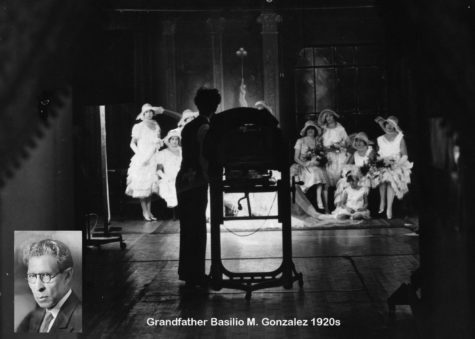 Because his siblings had entered other fields of work, Gonzalez ended up inheriting the family business. For years he had been an avid wedding photographer who enjoyed being able to take photos of the special moment but also had experience doing portrait photography. He never shied away from helping a groom tie a tie or staying still for a photo, or fun for a child taking their first portrait. Now, with Gonzalez's deep understanding of both film and digital photography, he focuses on restoring both old and new photos for any El Pasoan who needs it.
With years of photography experience, Gonzalez shared how photography in El Paso changed between the 90s and 2000s, why going to your local photographers matters, and some advice on how to be the best photographer for your clients. 
Below is what he had to say:
Brandy: In your experience helping your father and family run a photography business, how has photography changed over the years? 
Basillio: There was a time where (my family), when it was real busy, were shooting seven or eight weddings in one weekend. But what was also popular during the '60s, '70s, '80s and that started to fade out in the '90s was people liked to come in to get portraits done in the studio. It's still popular. 
Most of the time they have the portraits done on location, maybe at a park or downtown you know.
It's more expensive, but if you want, if it's an important occasion, you really want to hire a photographer to do it because there's professional lighting. Overall, you're gonna get a better photograph. 
…
On special occasions I still get people calling me. They want portraits because they see the portraits of the family members from the past and they say 'we want something like that'.
Now there isn't a bride that doesn't want both video and pictures. So that changed for a long time. It was just pictures in the 60s, 70s, 80s ,and then video started coming in. Then, once video started coming in, people slowed down. The weddings slowed down in the studio because people were opting to buy video more than studio portraits. But, I still get a few you know
Brandy: Do you think that today's photographers would benefit from really understanding the technicalities of the camera and the photograph?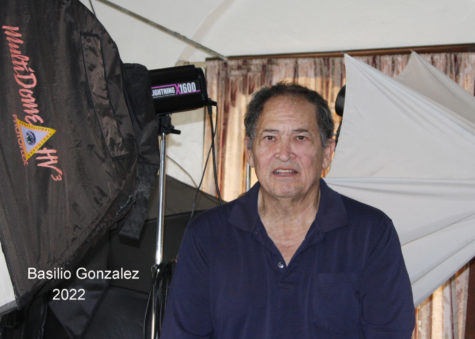 Basilio: If you know the history of whatever you're doing, and how it was discovered and how it evolved. All that knowledge from before helps you with today.
Instead of just jumping into digital, know what the different settings are on the cameras and what they do. The f-stops, the shutter speeds and what they do, and just the basic course of photography
Once you know what they do and how they relate to each other, you can kind of like mess with it yourself.
Brandy: Is there any advice that you would give to up and coming photographers?
Basilio: What I've noticed is that part of the success of being a photographer is being a people person. You gotta like people, you gotta like children, you gotta like events, like weddings, you gotta like all that and that's all what people want.
When you shoot a wedding: you know the protocol of the wedding as far as where the flowers go, you know. People, they might come in for a portrait and say 'Can you help me with a tie?' You know, all those little details.
You gotta be able to like the social aspect of portrait photography and what it means to the father and the mother to take a portrait together and the pride of tagging a beautiful portrait means a lot and you got to empathize with that and know how important that is.
Interview portions of this story were edited for brevity, grammar and flow.