Q&A: El Paso Photographers & Business owners weigh in on El Paso's photography scene
July 18, 2022
In El Paso, a former wedding photographer whose photography business had been passed down 100 years, a sports-turned portrait photographer published in both Billboard and People magazine and a female photographer who prints and creates all of her own canvases are just a few people that Minero Magazine spoke to about their experiences taking photos in El Paso, Texas.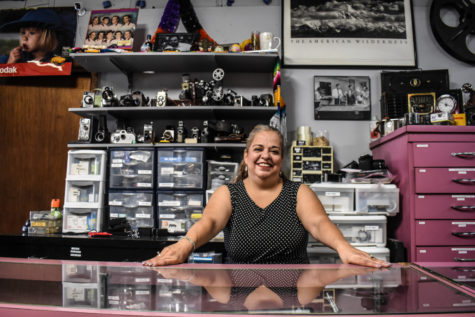 "Back in the day, for your or your family pictures, it would be in a studio scene and now it's not. (Photos are taken) on location," said Owner of Jerry Reed's Photo & Video Luz Moreno.
Moreno is talking about the shift in photography style; overtime, how photos are taken nowadays versus  20 years ago has changed from getting it done by a professional photo studio to DM'ing your local photographer on Instagram, Moreno said.
At the 60-year-old camera shop, Moreno encounters all kinds of photographers, from beginners to experts and everything in between. Moreno shared that photographers these days have changed the way they do things or are inspired by the way things were done in the past.
Minero spoke to three photographers with unique styles and histories to really understand what El Paso's photography scene looks like now, how to stand out and what it takes to run your own business.
Below are our conversations.

Jasmin Campoya
Sitting in a make-shift photo studio inside of a garage of an east El Paso home, photographer, student, server, band-member and local business owner Jasmin Campoya said in her 5-year photography career, she had never been in front of a camera, at least, one that was not her own.
Campoya started taking photos at 16 years old, during her freshman year of high school, using a Sony A6 camera that her father had gifted her for her birthday. 
Her first photos captured landscapes, scenery and anything else she saw during a trip to Austin, Texas, all of which she published on the Instagram account @jasmincphoto. Quickly, her family members took notice of her photos and a tía suggested Campoya take her cousin's graduation photos. From there, her photography business grew to what it is today: printmaking and photography under her name.
View this post on Instagram
With two semesters left before she graduates with a degree in digital media production, Minero Magazine's Spring 2022 photo-editor talks about the courage it takes to start a self-named photography business in a field that is notoriously difficult to make a name in.
Here is what she had to say:
Brandy: Where did you start and where are you now? 
Jasmine: One of the first grad-photos I did was my cousin's. And then I was like, "Oh, that was like really fun." I was so nervous though. Because those were the first photos that anybody had ever hired me to do.
So after that, I was like, "Oh, that's really cool"… I just wanted to like stick to it, to do it for fun and then my cousin posted his photos. So then, a few of his friends were like, 'Oh, you want to take my grad photos?' And I was like, 'Well, I don't really do that'. I was, I don't know, barely starting out. So I literally would charge like $20 for a shoot and then give them like 50 photos and like looking back… (charging) that was so cheap!
There's so much competition within the photography community. It's kind of difficult but I just kept shooting and stuff. And then, maybe when it was like…2019- 2020 when COVID hit I then started taking photography more seriously in those years. I made my website and then I started shooting film, and I really liked shooting film a lot. I think it was cool how I would have to wait for my photos. And I think it made me appreciate my photography a lot more. So that's when I started printing all my photos and I really liked it because I just wanted to put them all in my room. 
Brandy: So do you do all your prints and make your canvases from your home? How expensive is that and why did you start?
Jasmine: At the time, when COVID hit, no one booked me and back then I was scared because I didn't want to get COVID. So I would tell people: I'm sorry, I can't do your photoshoot. I don't want to get sick, you know, or risk it or anything like that. So then I started shooting film (again) and I was like, well maybe I could make money off selling my photos. 
I would take a bunch of photos and I was like, "imagine if someone got this photo and put it in their room or like in their kitchen or something." So we bought equipment and then for canvases we just go buy wood. My dad makes frames and everything and then I staple it. 
It was really expensive. My dad had already had a few printers so he knew a lot about printers. I wouldn't have been able to do it at all without my dad because he has so much knowledge about all that and technology. Then, I thought: "Well, I don't want to just have little prints or like don't have big prints." So we ended up buying a Canon printer which prints up to a 24×36. They're super expensive, but it was really nice. We were like: if we sell this much it's like a good investment, you know? I mean like I'm still trying to grow that (side of the business) too because I'm trying to grow my print shop.
Brandy: You started out charging $20 flat for 50 photos and now you take photos, print them and build canvases all in your home. Can you talk about your experience being a woman photographer in El Paso, who has run her own printing and photography business, all while balancing school and work?
View this post on Instagram
Jasmin: I do have some days that I'm overwhelmed but I'm the type of person to always be wanting to do something. I don't like being bored at home. I honestly think I'm able to balance everything really well and I really love El Paso. I've thought about moving but I think I built like my clientele here and even if I'm not a huge business right now, I hope to keep growing, especially within El Paso and even meet other photographers here because I see that they're friends and I just think that's so cool.
Brandy: What is a piece of advice you can give to somebody who is just starting out?
Jasmine: Social media is really big, especially Instagram. One thing I found out was like post who you are, a personality because say if I'm trying to book someone and I don't know what they look like, I most likely won't book them. I mean, I want to- especially with the photographer, I want to feel like I know them or like I can trust them.
You can find Jasmin on instagram @jasmincphoto or book through her website jasmincphoto.com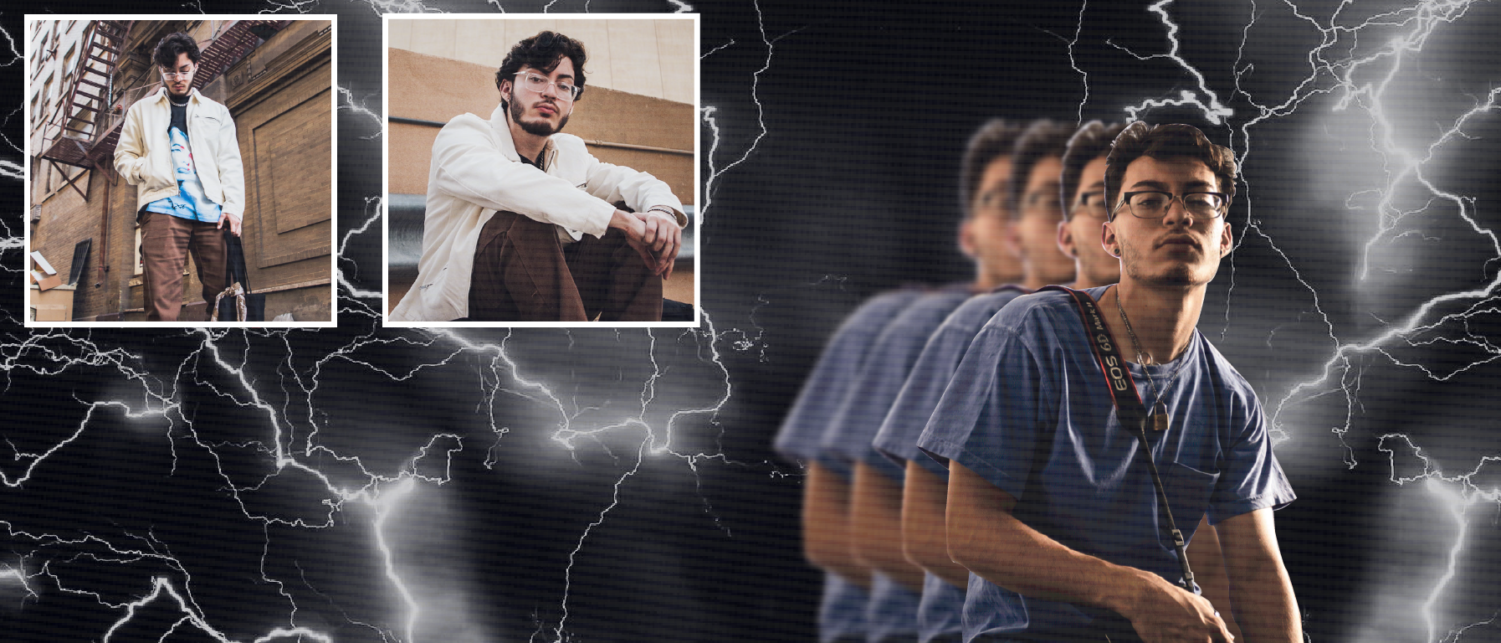 Christopher Baca  
Bouncing between El Paso and Austin, Texas, this University of Texas at Austin student began his photography career with just an iPhone in a highschool journalism class. After enrolling in UT Austin, he did a stint photographing his school's basketball events for UT Austin's Athletics. Now, he has been photographing events like Neon Music Desert Festival and featured on Billboard Argentina and People en Español magazine.
Christopher Baca is originally from El Paso, but has been taking photos back and forth between Austin and El Paso for five years. He said, what inspired him to become a photographer in the first place was seeing photographers on basketball courts take photos of professional basketball games as well as inspiring words from his highschool yearbook teacher who told Baca that he had an eye for photography. So eventually, he found himself taking photos at basketball games at UT Austin but at the same time, taking portraits in between school and basketball.
View this post on Instagram
But, he said, there was not a single moment that he could say made him fall in love with the profession – it was gradual. 
Baca shared with Minero his inspirations, his thoughts on photography today and how he began to take photos of up and coming artists and influencers.
Brandy: How would you describe your photography style? Was it inspired by anything?
Chris: I guess my photography is inspired by a lot of things. I'm very interested in the rock genre. They have like a very specific image. My older brother was a skater. So I got into skating videos and that's why I use a fisheye lens. It's very alternative and, like, grungy.
Brandy: How has your clientele, the type of clients you get, changed? Is it usually just everyday people that tend to reach out to you or is it influencers? Is it celebrities, or is it just kind of like a mix of people?
Chris: Mainly the people I work with now, it's like people that want to build an image for themselves. So it could be anyone that's like a local up and coming artist or huge artists that's, like, producing for Drake. 
I guess people are seeing my work and they would like to associate with it now. Rather than just doing any, like, "hey, come take a picture of me and my family at a picnic" or something like that. 
I guess it's a lot more artistic. People that want to build an image for themselves (are the people) that I'm working with now.
Brandy: Now that you've felt like you've become more creative, have you kind of ventured off into different kinds of photography or just different kinds of mediums? Have you changed the way you work with clients?
View this post on Instagram
Chris: I try to explore different lenses, different lighting. Every single thing I have control over during my photography, I like to learn how to manipulate and master (my photography). So I guess that's what I'm venturing into, like just having a deeper knowledge.
The more I learn about how to manipulate lighting, what every lens does, and what it can achieve, the more knowledge you have about how to portray whatever you want. You know what to use to create a certain feeling, a certain theme. It helps a lot having that knowledge. 
So, whenever we're doing a consultation, I ask for them to send me references like more or less what they like, and then that's when I fully take over. So it can be a collaborative work, but it's mainly just me taking creative control. Because every time there's gonna be something that's different, whether it's the weather, the lighting, or you show up and the spot isn't what you thought it was. So you have to improvise. So that's when I take like full creative control.
Brandy: Is there any advice that you could give to any up and coming photographers about how to stand out in El Paso's photography scene?
Chris: I would say this takes years. So you have to be patient to develop your style. Like at first, you don't have a style because it's hard, you don't know how to manipulate everything, but you have to get knowledge and that's how you learn to actually do what you want and that's how you eventually spread out.
You can find Chris on instagram @chriscanonn or book through his website chriscannon.myportfolio.com
Basillio Gonzalez 
For nearly 100 years, Basillio Gonzalez's family has been involved in the business of photography. Whether it was taking photos, running a photography studio in 1914 like his grandfather, Basilio M. Gonzalez used to do on El Paso Street or restoring photos like Gonzalez does now, he was always involved.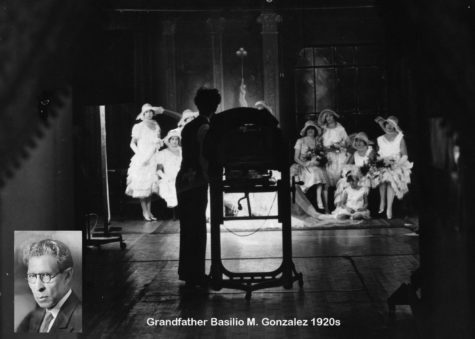 Because his siblings had entered other fields of work, Gonzalez ended up inheriting the family business. For years he had been an avid wedding photographer who enjoyed being able to take photos of the special moment but also had experience doing portrait photography. He never shied away from helping a groom tie a tie or staying still for a photo, or fun for a child taking their first portrait. Now, with Gonzalez's deep understanding of both film and digital photography, he focuses on restoring both old and new photos for any El Pasoan who needs it.
With years of photography experience, Gonzalez shared how photography in El Paso changed between the 90s and 2000s, why going to your local photographers matters, and some advice on how to be the best photographer for your clients. 
Below is what he had to say:
Brandy: In your experience helping your father and family run a photography business, how has photography changed over the years? 
Basillio: There was a time where (my family), when it was real busy, were shooting seven or eight weddings in one weekend. But what was also popular during the '60s, '70s, '80s and that started to fade out in the '90s was people liked to come in to get portraits done in the studio. It's still popular. 
Most of the time they have the portraits done on location, maybe at a park or downtown you know.
It's more expensive, but if you want, if it's an important occasion, you really want to hire a photographer to do it because there's professional lighting. Overall, you're gonna get a better photograph. 
…
On special occasions I still get people calling me. They want portraits because they see the portraits of the family members from the past and they say 'we want something like that'.
Now there isn't a bride that doesn't want both video and pictures. So that changed for a long time. It was just pictures in the 60s, 70s, 80s ,and then video started coming in. Then, once video started coming in, people slowed down. The weddings slowed down in the studio because people were opting to buy video more than studio portraits. But, I still get a few you know
Brandy: Do you think that today's photographers would benefit from really understanding the technicalities of the camera and the photograph?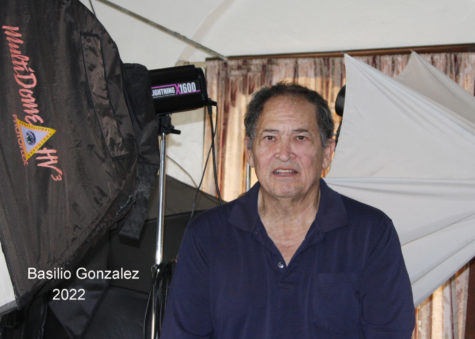 Basilio: If you know the history of whatever you're doing, and how it was discovered and how it evolved. All that knowledge from before helps you with today.
Instead of just jumping into digital, know what the different settings are on the cameras and what they do. The f-stops, the shutter speeds and what they do, and just the basic course of photography
Once you know what they do and how they relate to each other, you can kind of like mess with it yourself.
Brandy: Is there any advice that you would give to up and coming photographers?
Basilio: What I've noticed is that part of the success of being a photographer is being a people person. You gotta like people, you gotta like children, you gotta like events, like weddings, you gotta like all that and that's all what people want.
When you shoot a wedding: you know the protocol of the wedding as far as where the flowers go, you know. People, they might come in for a portrait and say 'Can you help me with a tie?' You know, all those little details.
You gotta be able to like the social aspect of portrait photography and what it means to the father and the mother to take a portrait together and the pride of tagging a beautiful portrait means a lot and you got to empathize with that and know how important that is.
Interview portions of this story were edited for brevity, grammar and flow.